Catholic Recipe: Blanc Mange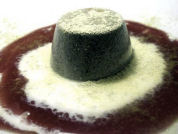 German cooks created a Bavarian cream with either a strawberry or cherry sauce to symbolize the blood which Herod spilled. They felt that blanc mange would be suitable for little children and grownups after too much Christmas feasting. Sometimes these quivery milk puddings were colored different colors. A variation on this idea, in honor of the Holy Innocents, is this recipe for blanc mange.
DIRECTIONS
Scald two and one-fourth cups of milk. Mix three-fourths cup of cold milk, cornstarch, two tablespoons of sugar and salt. Add slowly to the hot milk. Cook until thick (about five minutes). Add egg and the rest of the sugar. Finish cooking for a minute or two. Flavor with almond. Mold.
Recipe Source:
Cooking for Christ by Florence Berger, National Catholic Rural Life Conference, 4625 Beaver Avenue, Des Moines, IA 50310, 1949, 1999