Catholic Recipe: Breton Nut Bread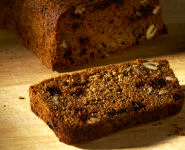 At last the vigil of Christmas is here. Most of our cooking and baking is done on this day so that we may be Marys and not Marthas on the holy day. For Christmas breakfast we bake a sweet nut bread which the Bretons made. It is as wholesome as it is good.
DIRECTIONS
Mix sifted dry ingredients in a bowl. Add sour milk slowly and stir to a smooth dough. Mix in nuts, raisins and currants. Bake in a hot oven (400°) for about 60 minutes.
* To sour milk, combine 1 tablespoon distilled white vinegar with enough milk to fill a 2 cup measure. Let it stand 5 minutes.)
Recipe Source:
Cooking for Christ by Florence Berger, National Catholic Rural Life Conference, 4625 Beaver Avenue, Des Moines, IA 50310, 1949, 1999