Catholic Recipe: Pumpkin Stew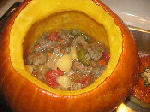 This is a great way to make use of pumpkins leftover from All Saints decorating.
DIRECTIONS
In a Dutch oven, brown meat in 2 tablespoons oil. Add water, potatoes, carrots, green pepper, garlic, onion, salt and pepper. Cover and simmer for 2 hours. Stir in bouillon and tomatoes.
Wash pumpkin; cut a 6- to 8-inch circle around top stem. Remove top and set aside; discard seeds and loose fibers from inside. Place pumpkin in a shallow, sturdy baking pan. Spoon stew into pumpkin and replace the top. Brush outside of pumpkin with remaining oil.
Bake at 325° for 2 hours or just until the pumpkin is tender (do not overbake). Serve stew from pumpkin, scooping out a little pumpkin with each serving.
Recipe Source:
Taste of Home