Catholic Recipe: Beef and Mushroom Kebab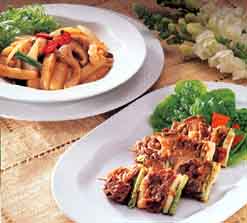 Also Called: Gogi beoseot sanjeok
Shisk Kabobs with a Korean flavor
DIRECTIONS
Beef Prepare beef flank and cut into 0.5cm×5cm×5cm size.
Oyster Mushroom and Green Onion Parboil the oyster mushroom and wash with cold water. Squeeze out the water and mix with salt and sesame oil. Cut the green onion into 3-4 cm lengths.
Sauce Put sugar, ground green onion, garlic, sesame salt, pepper and sesame oil in soy sauce.
Skewer Skew with the prepared beef, mushroom and green onion in order. Marinate the skewer with the sauce (15 minutes) and fry it in a pan with plenty of oil.
NOTE: If the ingredients are marinated before they are skewed, it becomes too salty and the color too dark. Apart from the mushroom, they all taste better if they are marinated after they are skewed.
Recipe Source:
YoriZori.com