Catholic Recipe: Sugar Cookies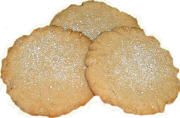 This is a delicious recipe taken from the convent of the Sacred Hearts Sisters in Hawaii who make them at Christmas. These cookies are guaranteed to melt in your mouth.
DIRECTIONS
Cream butter and sugar. Add eggs and vanilla and mix well. Blend in dry ingredients, mix well.
There are several options at this point. You can chill the dough, then roll out and cut cookies. Place on ungreased cookie sheet and decorate with sugar and candies.
Or, if in a hurry, make small balls out of the dough (about 1 inch in diameter), place on ungreased cookie sheet. Take a glass with a flat bottom, dip in granulated sugar and smash down the cookie.
Bake for 7-10 minutes in 350º oven.
Recipe Source:
Original Text (JGM) by Jennifer Gregory Miller, © Copyright 2003-2022 by Jennifer Gregory Miller