Catholic Recipe: Christ's Diapers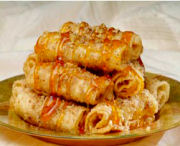 Also Called: Diples (Greek)
These cookies keep the theme of Christmas, of Christ as a child, reminding us of the Holy Innocents, and are appropriate for the Feast of the Baptism of Our Lord, since they also remind us of our baptism and childhood.
Diples are "folds" in Greek. These cookies are sometimes shaped in bowknots or other fancy shapes, but for Christmas they are made in a shape suggestive of the swaddling clothes—or actually the diapers!—of the infant Jesus.
DIRECTIONS
With an electric beater, beat the eggs until light and fluffy.
Sift together the flour, salt, and baking powder. Gradually stir the flour into the eggs.
Turn the dough onto an unfloured board. Add the olive oil, a little at a time, and the grated orange rind. Knead the dough until it is smooth—about 10 minutes.
Roll the dough out paper thin on a well-floured board. Cut it into squares about 1 1/2 inches across. Fold these into triangles, then join the ends to form diapers. Press the corners together gently but firmly. (If you don't press the corners well, the diapers will come undone!)
Drop the diapers, a few at a time, into hot fat (360º-370º F. on a deep-fat-frying thermometer). Turn once or twice and fry until golden brown. Drain thoroughly on paper towels.
Bring the honey and water slowly to a boil in a saucepan. Stir in the cinnamon and lemon juice. Reduce heat and simmer for 1 or 2 minutes.
Dribble the honey syrup over the diapers, and sprinkle them with chopped pistachios, then with confectioners sugar.
When the diapers are fully dry, pack them in a tin and cover tightly. These keep well, if well covered.
Recipe Source:
Continual Feast, A by Evelyn Birge Vitz, Ignatius Press, San Francisco , 1985