Catholic Recipe: Double Chocolate Mocha Biscotti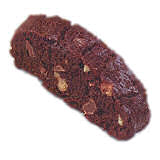 A traditional hard Italian cookie.
DIRECTIONS
Set aside 1/2 cup of miniature pieces. Melt remaining pieces in small saucepan over low heat stirring occasionally. Meanwhile beat butter in large mixing bowl on medium to high speed, add sugar, baking powder and coffee powder. Beat until combined, beat in eggs, vanilla and melted chocolate. Beat in as much flour as you can with mixer. Stir in remaining flour, stir in reserved chocolate pieces.
Divide dough in 1/2. Shape each portion into 8 inch roll with lightly floured hands. Place rolls about 5" apart on lightly greased cookie sheet, flatten to 2" width. Bake at 375º, 25 to 30 minutes or until toothpick inserted in center comes out clean.
Cool on cookie sheet 1 hour. Transfer to a cutting board, cut each loaf diagonally into 1/2 inch slices. Lay slices cut side down on cookie sheet. Bake at 375 for 10 minutes, turn to other side and bake 10 to 15 minutes more or until dry and crisp. Remove and cool on wire rack.
Melt white baking pieces and shortening in small heavy saucepan over low heat stirring occasionally. Dip the bottom of each cookie into melted mixture.
Recipe Source:
Epicurious.com: The World's Greatest recipe collection