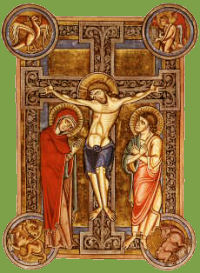 "Lord, to whom shall we go? You have the words of eternal life."
— John 6:68
Scripture and the Liturgy
In her revision of the Liturgy, the Church has sought to reestablish the preeminence of Sunday, that feast day par excellence, over every other feast day.[3]
Recognizing, too, that Our Lord is really present when Sacred Scripture is read during the Liturgy, she has opened up the "treasures of the bible so that richer fare may be provided for the faithful at the table of God's Word."[4]
To encourage her children to have a "warm and living love for Scripture,"[5] the Church has enlarged the Sunday Lectionary so that the various books of the New Testaments are read roughly from beginning to end over a period of weeks, and the synoptic Gospels are read in a 3 year cycle Year A – Matthew; Year B – Mark; Year C – Luke.
Old Testament readings and Psalms are chosen to correspond to the Gospel passages and to bring out the fulfillment of the Old Testament in the New. The revised weekday lectionary for Ordinary Time complements the Sunday lectionary with its 2-year cycle of readings presenting all the major portions of the Bible, and a 1-year cycle for the Gospels of Matthew, Mark and Luke.