Drop down dew
ye heavens from above. Let the earth be opened and bud forth the Savior.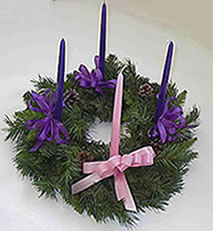 What Is Advent?
Christmas is here! Or is it? Before the end of October one sees the signs of Christmas everywhere. But by the time December 25 arrives, most people are "Christmased" out — too many parties, rich foods and stretched budgets. We Catholics don't need to draw our drapes and twiddle our thumbs while the rest of society is celebrating Christmas in advance. Instead, we can celebrate two seasons: Advent and Christmas.
The Church begins a new Liturgical Year on the First Sunday of Advent. During the subsequent four weeks, she prepares with mounting expectation for the coming of Christ in a spirit of waiting, conversion and hope.