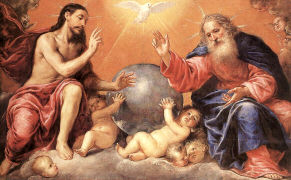 The Liturgical Year
The content below provides an overview to the Catholic Liturgical Year. Click here to learn about the liturgical year material available on this site.
As the earth cycles annually through its seasons, just so the Church celebrates with quiet, deliberate rhythm the seasons of the liturgical year – always the same, yet ever new and renewing.
At the heart of this yearly cycle is the Sacred Liturgy, especially the celebration of the Mass, which is the source and summit of the Church's life.1
Cycles of Christian Renewal
Annually, through the Proper of Seasons or Temporal Cycle, the Church immerses herself in the whole "mystery of Christ, from the incarnation and birth until the ascension, the day of Pentecost, and the expectation of blessed hope and of the coming of the Lord."2 Further, in the Proper of Saints or Sanctoral Cycle, she honors with special love Mary, the Mother of God, and celebrates the feasts of martyrs and saints who are already in possession of eternal salvation.
Through her official public worship the Church recalls and celebrates these mysteries, dispensing to her members the treasure of Christ's merits for their sanctification.3 This "universal call to holiness", our sanctification, is the will of God for each of us who have by Baptism been grafted onto the Vine that is Christ and his Mystical Body.4 It is God who accomplishes the work of our sanctification through the liturgy, especially the Eucharistic sacrifice.
Personal Holiness and the Liturgy
The Mass admits of limitless levels and layers of understanding. A richness of outward signs points to inward realities of grace; sensible symbols become gateways to the mystical realm. The Church wisely uses externals – words, gestures, and material things we can see, hear and smell – to surround the sacred mysteries that will sanctify her children.
With urgency, therefore, the Magisterium encourages us to participate fully and actively in the liturgical sacrifice: by coming to it with proper dispositions; by offering our lives with the sacrifice of Christ our High priest; by growing in our knowledge and appreciation of the Mass; and by leading our children, through instruction and example, to a deeper understanding and love of the faith and the liturgy.5
Your Domestic Church
But how are we to draw life from the Eucharistic sacrifice as water from a limitless spring? How can we make participation in the sacred liturgy bear fruit in our homes and daily lives?
Within the Catholic home – the domestic church – we may make use of pious practices, objects and various traditions to join with the Church in living the liturgical year. By making use of customs, traditions, and devotional practices, parents, as first teachers of their children, will be building up the "little kingdom of heaven" that is their home. Ideally, this will culminate in the celebration of the liturgy, for every practice and custom that is not oriented towards the liturgy will be hollow and fail to produce worthy fruit.6
---
1. Vatican II, Sacrosanctum Concilium #10 "Nevertheless, the liturgy is the summit toward which the activity of the Church is directed; at the same time it is the font from which all her power flows."

2. Vatican II Sacrosanctum Concilium #102

3. Vatican II, Sacrosanctum Concilium, #102 " Recalling thus the mysteries of Redemption, the Church opens to the faithful the riches of her Lord's powers and merits, so that these are in some way made present at all times, and the faithful are enabled to lay hold of them and become filled with saving grace."

4. Vatican II, Lumen Gentium #39 "Therefore in the Church, everyone whether belonging to the hierarchy, or being cared for by it, is called to holiness, according to the saying of the Apostle: 'For this is the will of God, your sanctification'(1 Thes 4:3; Eph 1:4)."

5. Vatican II, Sacrosanctum Concilium, #14, "Mother Church earnestly desires that all the faithful should be led to that full, conscious, and active participation in liturgical celebrations which is demanded by the very nature of the liturgy. Such participation by the Christian people as "as chosen race, a royal priesthood, a holy nation, a redeemed people" ( Pet. 2:9) , is their right and duty by reason of their Baptism.

6. Extract from the address of His Holiness Pope John Paul II to the Plenary Meeting of the Congregation for Divine Worship and the Discipline of the Sacraments, p. 13, Directory on Popular Piety and the Liturgy; "…the Liturgy is the center of the Church's life and cannot be substituted by, or placed on a par with any other form of religious expression. Moreover, it is important to reaffirm that popular religiosity, even if not always evident, naturally culminates in the celebration of the Liturgy towards which it should ideally be oriented."