Move to:
Previous Day
|
Next Day
Ordinary Time: February 25th
Tuesday of the Seventh Week of Ordinary Time
» Enjoy our Liturgical Seasons series of e-books!
Old Calendar: St. Walburga, abbess (Hist)
Historically today is the feast of St. Walburga, sister of Sts. Willibald and Winebald. She became a nun at Wimborne in Dorset under St. Tatta and followed St. Lioba to Germany at the invitation of St. Boniface. She died abbess of Hiedenheim, whence her relics were translated to Eichstatt.
It is also the day before Ash Wednesday, called Mardi Gras or Fat Tuesday. Traditionally, it is the last day for Christians to indulge before the sober weeks of fasting that come with Lent. Formally known as Shrove Tuesday, Mardi Gras has long been a time of extravagant fun for European Christians. In many southern states of the USA Mardi Gras is a traditional holiday. The most famous celebration takes place in New Orleans, Louisiana. It has been celebrated there on a grand scale, with masked balls and colorful parades, since French settlers arrived in the early 1700s.On April 17th, 1958, His Holiness Pope Pius XII confirmed the Feast of the Holy Face of Jesus on Shrove Tuesday (Tuesday before Ash Wednesday) for all the dioceses and religious orders who would ask for the Indult from Rome in order to celebrate it. You can learn more about this devotion at
Holy Face Devotion
and at the
Holy Face Association
.
---
Preparing for Lent
No Lent is worthy of the name without a personal effort of self-reformation, of leading a life more in accordance with God's commands and an attempt by some kind of voluntary self-denial to make reparation for past negligence. But the Church, together with the personal effort which she requires of all of us, her children, sets up in the sight of God the cross of Christ, the Lamb of God who took upon Himself the sins of man and who is the price of our redemption. As Holy Week approaches the thought of the passion becomes increasingly predominant until it occupies our whole attention, but from the very beginning of Lent it is present, for it is in union with the sufferings of Christ that the whole army of Christians begins on the holy "forty days", setting out for Easter with the glad certitude of sharing in His resurrection.
"Behold, now is the acceptable time, behold, now is the day of salvation." The Church puts Lent before us in the very same terms that formerly she put it before the catechumens and public penitents who were preparing for the Easter graces of baptism and sacramental reconciliation. For us, as it was for them, Lent should be a long retreat, one in which under the guidance of the Church we are led to the practice of a perfect Christian life. She shows us the example of Christ and by fasting and penance associates us with his sufferings that we may have a share in His redemption.We should remember that Lent is not an isolated personal affair of our own. The Church avails herself of the whole of the mystery of redemption. We belong to an immense concourse, a great body in which we are united to the whole of humanity which has been redeemed by Christ. The liturgy of this season does not fail to remind us of it. This, then, is the meaning of Lent for us: a season of deepening spirituality in union with the whole Church which thus prepares to celebrate the Paschal mystery. Each year, following Christ its Head, the whole Christian people takes up with renewed effort its struggle against evil, against Satan and the sinful man that each one of us bears within himself, in order at Easter to draw new life from the very springs of divine life and to continue its progress towards heaven.Excerpted from
The Saint Andrew Daily Missal
---
Shrove Tuesday
Here are a few suggestions to help you celebrate the final day before Lent.
Today is Fat Tuesday, or Mardi Gras! Try some of the traditional recipes linked here. When eggs were among the foods that were forbidden by the Church during Lent, people would use them up on Fat Tuesday by mixing up large quantities of pancakes or doughnuts (also known as fastnachts).
Read Maria von Trapp's explanation of the traditions associated with Carnival, or Fat Tuesday here.
Sing this American favorite, Turkey in the Straw, with your children as part of your Mardi Gras celebrations.
Discuss Jesus' Gospel teaching for today, He who would be first must be last, with your children and ask them how they can put others in the family before themselves. Keep it simple and practical — setting the table, washing the dishes, folding laundry, watching the littler ones, doing homework right away.
What does it mean to become a child spiritually, that we may enter Heaven and be received by Christ Himself? We can learn much from St. Therese of the Child Jesus about spiritual childhood. Begin reading her Story of a Soul.
Read Fr. William Saunder's article, Shrove Tuesday and Shrovetide, from the Catholic Culture Library.
---
St. Walburga
St. Walburga was born around 710. She is the daughter of St. Richard and the niece of St. Boniface. When St. Richard set out for a pilgrimage to the Holy Land with his sons, Ss. Willibald & Winibald, he entrusted 11 year old Walburga to the monastery school at Wimborne. She remained as a nun, spending a total of 26 years there.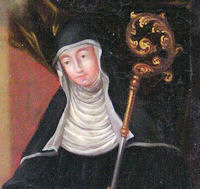 When St. Boniface put out an appeal for nuns to help him in the evangelization of Germany, St. Walburga answered the call. On the way to Germany, there was a terrible storm at sea. Walburga knelt on the deck of the ship and prayed. The sea immediately became calm. Some sailors witnessed this and spread the word that she was a wonderworker, so she was received in Germany with great respect. At first, she lived at Bischofsheim, under the rule of St. Lioba. Then she was made abbess at Heidenheim, near to where her brother, Winibald served as an abbot over a men's monastery. After his death, she ruled both monasteries. She worked many miracles in the course of her ministry. She wrote a biography of her brother, Winibald, and of Willibald's travels in Palestine, in Latin. She is regarded as the first woman author in both England and Germany. On September 23, 776, she assisted Willibald in translating the uncorrupt relics of their brother, Winibald, to a new tomb in the church at Heidenheim. Shortly after this, she fell ill. Willibald cared for her until she died on February 25, 777, then placed her next to Winibald in the tomb. After St. Willibald's death in 786, people gradually forgot St. Walburga and the church fell into disrepair. In 870, Bishop Oktar was having Heidenheim restored. Some workmen desecrated Walburga's grave. She appeared in a dream to the bishop, who then translated her relics to Eichstadt. In 893, St. Walburga's body was found to be immersed in a mysterious sweet-smelling liquid. It was found to work miraculous healings. The liquid, called St. Walburga's oil, has flowed from her body, ever since, except for a brief period when the church was put under the interdict after robbers shed the blood of a bell-ringer in the church. Portions of St. Walburga's relics have taken to several other cities and her oil to all parts of the world.