Move to:
Previous Day
|
Next Day
Ordinary Time: February 5th
Memorial of St. Agatha, virgin and martyr
» Enjoy our Liturgical Seasons series of e-books!
St. Agatha died in defense of her purity, in Catania, Sicily, where she was born. After Quintanus, the governor of Sicily, tried in vain to force her to consent to sin, she was imprisoned for a month with an evil woman. He then turned from sensuality to cruelty and had her breasts cut off; but that night Agatha was healed by St. Peter. She was then rolled over sharp stones and burning coals, and finally taken to prison where she died while praying. Her name appears in the Roman Canon.
---
St. Agatha
It is impossible to write a historically reliable account of St. Agatha's life. The "Acts" of her martyrdom are legendary, dating from the sixth century.
According to these sources Agatha was a Sicilian virgin of noble extraction. Quintianus, governor of Sicily, became deeply enamored of her; but she rejected his advances. As a result she was charged with being a Christian and brought before his tribunal. To the question concerning her origin she replied: "I am noble-born, of a distinguished family, as all my relatives will attest." When asked why she lived the servile life of a Christian, she answered: "I am a handmaid of Christ, and that is why I bear the outward appearance of a slave; yet this is the highest nobility, to be a slave to Christ." The governor threatened her with the most dreadful tortures if she did not renounce Christ. Agatha countered: "If you threaten me with wild beasts, know that at the Name of Christ they grow tame; if you use fire, from heaven angels will drop healing dew on me."
After being tortured, "Agatha went to prison radiant with joy and with head held high as though invited to a festive banquet. And she commended her agony to the Lord in prayer." The next day, as she again stood before the judge, she declared: "If you do not cause my body to be torn to pieces by the hangmen, my soul cannot enter the Lord's paradise with the martyrs. She was then stretched on the rack, burned with red-hot irons, and despoiled of her breasts. During these tortures she prayed: "For love of chastity I am made to hang from a rack. Help me, O Lord my God, as they knife my breasts. Agatha rebuked the governor for his barbarity: "Godless, cruel, infamous tyrant, are you not ashamed to despoil a woman of that by which your own mother nursed you?"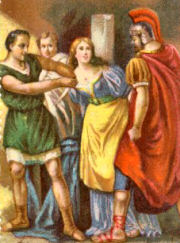 Returning to prison, she prayed: "You have seen, O Lord, my struggle, how I fought in the place of combat; but because I would not obey the commands of rulers, my breasts were lacerated." In the night there appeared to her a venerable old man, the apostle Peter, with healing remedies. Agatha, ever delicately modest, hesitated to show him her wounds. "I am the apostle of Christ; distrust me not, my daughter." To which she replied: "I have never used earthly medicines on my body. I cling to the Lord Jesus Christ, who renews all things by His word." She was miraculously healed by St. Peter: "Father of my Lord Jesus Christ, I give you praise because by Your apostle You have restored my breasts." Throughout the night a light illumined the dungeon. When the guards fled in terror, her fellow prisoners urged her to escape but she refused: "Having received help from the Lord, I will persevere in confessing Him who healed me and comforted me."
Four days later she was again led before the judge. He, of course, was amazed over her cure. Nevertheless, he insisted that she worship the gods; which prompted another confession of faith in Christ. Then by order of the governor, Agatha was rolled over pieces of sharp glass and burning coals. At that moment the whole city was rocked by a violent earthquake. Two walls collapsed, burying two of the governor's friends in the debris. Fearing a popular uprising, he ordered Agatha, half dead, to be returned to prison. Here she offered her dying prayer: "Blessed Agatha stood in the midst of the prison and with outstretched arms prayed to the Lord: O Lord Jesus Christ, good Master, I give You thanks that You granted me victory over the executioners' tortures. Grant now that I may happily dwell in Your never-ending glory." Thereupon she died.
A year after her death the city of Catania was in great peril from an eruption on Mount Etna. Pagans, too, were numbered among those who fled in terror to the saint's grave. Her veil was taken and held against the onrushing flames, and suddenly the danger ceased. Her grave is venerated at Catania in Sicily.
—The Church's Year of Grace, Pius Parsch
Patronage: Bell-founders; breast cancer; breast disease; Catania, Italy; against fire; earthquakes; eruptions of Mount Etna; fire; fire prevention; jewelers; martyrs; natural disasters; nurses; Palermo, Italy; rape victims; single laywomen; sterility; torture victims; volcanic eruptions; wet-nurses; Zamarramala, Spain.
Symbols and Representation: Breasts on a dish; embers; knife; loaves of bread on a dish; pincers; shears; tongs; veil; virgin martyr wearing a veil and bearing her severed breasts on a silver platter.
Highlights and Things to Do:
Bake an Agatha loaf! On St. Agatha's feast day people would bake loaves attached to a picture of St. Agatha and prayers for protection from fires. The parish priests would bless the loaves, and people would keep them in their homes in case of a poor harvest and famine. The prayers would then be hung above the main door of each home to invoke St. Agatha's guardianship.
Spanish tradition associates this feast day with ancient fertility customs. Young men would visit many farms throughout the countryside, singing songs of praise to St. Agatha and invoking God's blessing upon people, animals, and fields. However, if they did not receive the customary gifts of money or food for their services, they would call down a 'quick old age' upon the ungrateful inhabitants of that farm. Although most of us do not live in such communities where this kind of custom would be practicable or even understood, we can pray to St. Agatha for a greater openness to the transmission of new life in our culture, and actively affirm and support young couples with children whenever possible.
St. Agatha is the patron saint against fire. Take this day to establish a fire escape plan for the family and to practice a family fire drill. Also check the smoke detectors, fire alarms, and carbon monoxide detectors to see if they are all working. Change the batteries on all the alarms! (Idea taken from A Treasure Chest of Traditions for Catholic Families by Monica McConkey. Used with permission. See Arma Dei for more information.