Move to:
Previous Day
|
Next Day
Ordinary Time: February 16th
Thursday of the Sixth Week of Ordinary Time
» Enjoy our Liturgical Seasons series of e-books!
Old Calendar: St. Juliana (Hist); St. Onesimus (Hist)
Historically today is the feast of St. Juliana, a Christian virgin of Cumae, Italy, martyred for the faith when she refused to marry a Roman prefect. She suffered terrible ordeals and was finally beheaded. One tradition reports that Juliana actually suffered martyrdom at Nicomedia and that her relics were transferred to Cumae. It is also the feast of St. Onesimus martyr and former slave. He is mentioned in St. Paul's Letter to Philemon as the slave of Philemon in Colossae, Phrygia, who ran away.
---
St. Juliana
St. Juliana suffered martyrdom during the Diocletian persecution. Both the Latin and Greek Churches mention a holy martyr Juliana in their lists of saints. The oldest historical notice of her is found in the "Martryologium Hieronymianum" for 16 February, the place of birth being given as Cumae in Campania (In Campania Cumbas, natale Julianae). It is true that the notice is contained only in the one chief manuscript of the above-named martyrology (the Codex Epternacensis), but that this notice is certainly authentic is clear from a letter of St. Gregory the Great, which testifies to the special veneration of St. Juliana in the neighbourhood of Naples. A pious matron named Januaria built a church on one of her estates, for the consecration of which she desired relics (sanctuaria, that is to say, objects which had been brought into contact with the graves) of Sts. Severinus and Juliana. Gregory wrote to Fortunatus, Bishop of Naples, telling him to accede to the wishes of Januaria ("Gregorii Magni epist.", lib. IX, ep. xxxv, in Migne P.L., LXXXVII, 1015).
The Acts of St. Juliana
used by Bede in his "Martyrologium" are purely legendary. According to the account given in this legend, St. Juliana lived in Nicomedia and was betrothed to the Senator Eleusius. Her father Africanus was a pagan and hostile to the Christians. In the persecution of Maximianus, Juliana was beheaded after suffering frightful torturers. Soon after a noble lady, named Sephonia, came through Nicomedia and took the saint's body with her to Italy, and had it buried in Campania. Evidently it was this alleged translation that caused the martyred Juliana, honoured in Nicomedia, to be identified with St. Juliana of Cumae, although they are quite distinct persons. The veneration of St. Juliana of Cumae became very widespread, especially in the Netherlands. At the beginning of the thirteenth century her remains were transferred to Naples. The description of this translation by a contemporary writer is still extant. The feast of the saint is celebrated in the Latin Church on 16 February, in the Greek on 21 December. Her Acts describe the conflicts which she is said to have with the devil; she is represented in pictures with a winged devil whom she leads by a chain.— Excerpted from
The Catholic Encyclopedia
---
St. Onesimus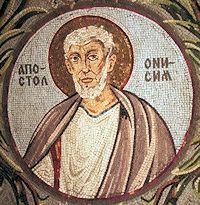 St. Onesimus was a slave to Philemon, an influential man who had been converted by St. Paul. Onesimus offended Philemon and fled in order to escape any sort of retribution. He then met St. Paul while Paul was in a Roman prison. Shortly after, Onesimus was baptized.
Paul then sent a letter to Philemon asking for Onesimus' freedom, so Onesimus could become one of his own assistants. This letter is the Epistle to Philemon and entreats Philemon to accept Onesimus "no longer as a slave, but more than a slave, a brother, beloved especially to me."Philemon pardoned Onesimus and he returned to faithfully serve St. Paul. We know that St. Paul made him, with Tychicus, the bearer of his Epistle to the Colossians. (Col. 4:7-9)Later, as St. Jerome and other fathers testify, he became an ardent preacher of the Gospel and succeeded St. Timothy as bishop of Ephesus.He was cruelly tortured in Rome, for 18 days, by a governor who was infuriated by his preaching on the merit of celibacy. Onesimus' legs and thighs were broken with bludgeons before he was stoned to death.His martyrdom occurred under Domitian in the year 90.Excerpted from
Catholic News Agency
---
The station for today is on Mt. Coelius in the basilica which the Christian Senator Pammachius built over the home of the martyrs Sts. John and Paul and which is dedicated to them. Near the church was a hospice where Pammachius dispensed his fortune in charity to the poor.