Move to:
Previous Day
|
Next Day
Ordinary Time: February 9th
Tuesday of the Fifth Week of Ordinary Time; Fat Tuesday; St. Teilo (Wales)
Other Commemorations: St. Teilo, Bishop (RM, Wales: Feast); St. Apollonia, Virgin and Martyr (RM)
» Enjoy our Liturgical Seasons series of e-books!
Today the feast of St. Teilo, bishop, is celebrated in Wales.
According to the 1962 Missal of St. John XXIII the Extraordinary Form of the Roman Rite, today is the feast of St. Cyril of Alexandria, bishop and doctor, and St. Apollonia, virgin and martyr. St. Cyril's feast in the Ordinary Form of the Roman Rite is celebrated on June 27th. St. Apollonia was a young martyr of Alexandria. She was arrested and executed in about 250 during a riot provoked against the Christians. Her executioners broke all her teeth. She is invoked for the cure of a toothache.
---
Preparing for Lent
No Lent is worthy of the name without a personal effort of self-reformation, of leading a life more in accordance with God's commands and an attempt by some kind of voluntary self-denial to make reparation for past negligence. But the Church, together with the personal effort which she requires of all of us, her children, sets up in the sight of God the cross of Christ, the Lamb of God who took upon Himself the sins of man and who is the price of our redemption. As Holy Week approaches the thought of the passion becomes increasingly predominant until it occupies our whole attention, but from the very beginning of Lent it is present, for it is in union with the sufferings of Christ that the whole army of Christians begins on the holy "forty days", setting out for Easter with the glad certitude of sharing in His resurrection.
"Behold, now is the acceptable time, behold, now is the day of salvation." The Church puts Lent before us in the very same terms that formerly she put it before the catechumens and public penitents who were preparing for the Easter graces of baptism and sacramental reconciliation. For us, as it was for them, Lent should be a long retreat, one in which under the guidance of the Church we are led to the practice of a more perfect Christian life. She shows us the example of Christ and by fasting and penance associates us with his sufferings that we may have a share in His redemption.
We should remember that Lent is not an isolated personal affair of our own. The Church avails herself of the whole of the mystery of redemption. We belong to an immense concourse, a great body in which we are united to the whole of humanity which has been redeemed by Christ. The liturgy of this season does not fail to remind us of it.
This, then, is the meaning of Lent for us: a season of deepening spirituality in union with the whole Church which thus prepares to celebrate the Paschal mystery. Each year, following Christ its Head, the whole Christian people takes up with renewed effort its struggle against evil, against Satan and the sinful man that each one of us bears within himself, in order at Easter to draw new life from the very springs of divine life and to continue its progress towards heaven.
Excerpted from The Saint Andrew Daily Missal
---
Shrove Tuesday
Here are a few suggestions to help you celebrate the final day before Lent.
Today is Fat Tuesday, or Mardi Gras! Try some of the traditional recipes linked here. When eggs were among the foods that were forbidden by the Church during Lent, people would use them up on Fat Tuesday by mixing up large quantities of pancakes or doughnuts (also known as fastnachts).
Read Maria von Trapp's explanation of the traditions associated with Carnival, or Fat Tuesday here.
Sing this American favorite, Turkey in the Straw, with your children as part of your Mardi Gras celebrations.
Discuss Jesus' Gospel teaching for today, He who would be first must be last, with your children and ask them how they can put others in the family before themselves. Keep it simple and practical — setting the table, washing the dishes, folding laundry, watching the littler ones, doing homework right away.
What does it mean to become a child spiritually, that we may enter Heaven and be received by Christ Himself? We can learn much from St. Therese of the Child Jesus about spiritual childhood. Begin reading her Story of a Soul.
Read Fr. William Saunder's article, Shrove Tuesday and Shrovetide, from the Catholic Culture Library.
---
St. Teilo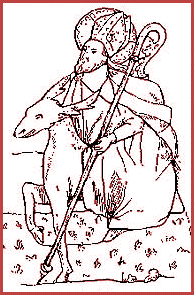 According to tradition Teilo, or Elios as he was sometimes known, was born about the year 480 AD at either Gumfreston or Penally in south Pembrokeshire. He studied under Paulinus at Ty Gwyn where he met Dewi (Saint David), the two becoming firm friends. Later, the two set out on a pilgrimage to Jerusalem and en route were joined by Padarn.
Upon their return home, Teilo was given charge of the church at Llandaff and the surrounding area. Shortly afterwards there was an outbreak of Yellow Fever and Teilo led his followers to Cornwall to escape its effects. From Cornwall they travelled to Brittany where they were welcomed by Archbishop Solomon of the Church of Dol. They stayed for seven years, during which time Teilo and his followers are said to have planted three miles of fruit trees. He returned to Llandaff where he ministered for many years. He died in 566 AD.
Several churches in south Wales and Brittany are dedicated to St Teilo. He is depicted on a fifteenth century stained glass window in a church at Plogonnec, Finistére, and also in a statue in the Chapel of Our Lady, Kerdévot. In both cases he is shown wearing bishop's robes and mitre and seated on a stag, suggesting, as was the case with many other saints of the time, that he had an affinity with the natural world.
—National Museum Wales
Patronage: Horses; fruit trees; against fever
Symbols and Representation: man riding a deer
Highlights and Things to Do:
---
St. Apollonia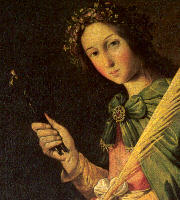 The Martyrology reads: "At Alexandria the holy virgin Apollonia—under the Emperor Decius (249-251) her teeth were beaten out; then the executioners built and lit a funeral pyre, and threatened to burn her alive unless she would repeat their blasphemies. After some reflection she suddenly tore herself loose from her tormentors and threw herself into the flames. The fire of the Holy Spirit that glowed within her was more intense than the burning pyre. Her executioners were astounded to see a weak woman willingly embracing death with such determination before they were ready to carry out their threats."
The saint was already well on in years. An account of St. Apollonia's martyrdom was written by Bishop Dionysius of Alexandria (died 265), a contemporary. She is honored as the patroness against toothache.
Apollonia, it might seem, committed suicide. Her act was used by the ancients as proof that it is permitted to escape dishonor or persecution through voluntary death. But the most authoritative moralists, including Saint Augustine, declare that even in such cases suicide is not permitted, and seek to justify Apollonia's heroic act by assuming that she acted according to a special mandate from God; without such a divine injunction no one is allowed to follow her example. The saints are not to be imitated on every point.
—Excerpted from The Church's Year of Grace, Pius Parsch
Patronage: against tooth disease; against toothache; dental technicians; dentists
Symbols and Representation: Deaconess holding a set of pincers which often holds a tooth; gilded tooth; pincers grabbing a tooth; pincers; tooth and a palm branch; tooth; woman wearing a golden tooth on a chain.
Highlights and Things to Do: