Catholic Activity: Celebrating for the Feast of St. Francis Xavier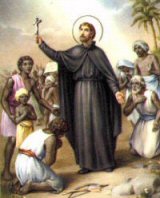 St. Francis Xavier's feast on December 3 falls at the beginning of Advent. His work as a missionary should help us ponder our missionary duty, especially as we contemplate this penitential and preparational season. Presented are other ideas on contemplating this saint's day.
DIRECTIONS
As St. Francis was a great missionary to Africa, India and Japan, we should consider our missionary duty. Jesus' last words on earth were to his disciples, telling them "Go therefore and make disciples of all nations, baptizing them in the name of the Father and of the Son and of the Holy Spirit, teaching them to observe all that I have commanded you" (Matt 28:19). As baptized members of the Church, we are Christ's disciples. What can we do to evangelize, spread the Gospel? We need to be daily witnesses in our home, work, school and council to show how we live the Faith.
How can we help missionary work in the Church? We should be generous in our contribution of both prayers and money for missionaries. Perhaps your family or council can "adopt" a certain mission, like to Russia, Banica, Africa, etc. and make regular contributions of food, items and of course, prayers. Try to sponsor drives or raffles to help add to the campaign. This is also is a great lesson for children to realize their blessings of having food, clothing and shelter.
Perhaps this Christmas you and your family can decide to sacrifice one present for someone who has less, to help them understand directly giving to the poor.
Incorrupt St. Francis' body is still incorrupt, but his right arm and some toes have been severed from the body and are preserved and revered around the world. Even in death, St. Francis continues to be a missionary! There is great veneration of this great missionary, especially in Goa, India, where the body is interred. This site describes the story of St. Francis' incorrupt body.
There are many bodies of saints that have been miraculously preserved from decay or destruction. Interesting reading on this subject is the book The Incorruptibles by Joan Carroll Cruz published by TAN Books and Publishers.
Activity Source: Original Text (JGM) by Jennifer Gregory Miller, © Copyright 2003-2022 by Jennifer Gregory Miller