Catholic Activity: Ut queant laxis hymn description
A description of the hymn to St. John the Baptist, famous for the beginnings of our present do-re-mi scale system in music.
DIRECTIONS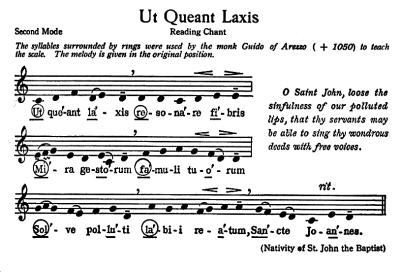 The hymn to St. John the Batpist was used by the Benedictine monk Guido d'Arezzo (Goo-ee'-do d'ar-ret'-zo) to teach the scale. In listening to the monks singing this hymn, , Guido observed the the first syllable of each line ofthe hymn formed one of the so-fa syllables of the scale as we know it, and that taken succesively they formed a six-tone scale — do-re-mi-fa-so-la (C-D-E-F-G-A). The scale names given by him have remained to the present. Later "ut" was cahnged to Do. The seventh tone, si (now called ti) was formed from the two intitial letters of the two last words, "Sancte Joannes." (J is I in Latin). Guido d'Arezzo is also known as the originator of the four-line staff notation found in Gregorian chant. His work allowed the ancient and traditional liturgical chants be more easily published, circulated and preserved for posterity.
  UT que-ant la-xis
  (C  D   F   DE  D)
  RE-so-na-re fi-bris
  (D  E  C  D  E  E)
  MI-ra ges-to-rum
  (E GE  D   E DE)  FA-mu-li tu o-rum
  (F  G  A  G  FDD)
  SOL--ve pol-lu-ti
  (G  AEG  F   G  D) 
  LA-bi-i re-a-tum. Sanc-te Jo-han-nes.
  (A  G  A F  GAA    G   FD  C  E   D)