Why Democrats choke on the words 'under God'
By Phil Lawler ( bio - articles - email ) | Oct 27, 2016
Introducing Hillary Clinton at a rally, a speaker tells the cheering audience that only the Democratic standard-bearer can bring America together as "one nation, un...." and then she breaks off, pauses, and continues with remainder of the familiar phrase from the Pledge of Allegiance: "indivisible, with liberty and justice for all"—leaving God out of it.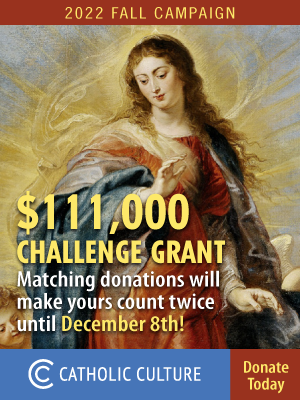 Maybe it was a mistake. The speaker has said that she did not intend to omit "under God," but stumbled over her words. That happens.
But you may recall that four years ago, at the Democratic national convention, there were reports that delegates had booed and jeered when a reference to the Almighty was inserted into the party's platform. As I wrote at the time, it wasn't true that the Democratic activists were booing God. The reality was actually a bit worse. They were booing the strongarm tactics used by party leaders to push that reference to God into the platform despite heavy opposition on the convention floor.
You see what's going on here? The Democratic Party has become so thoroughly radicalized that any official homage to God is controversial. When God is mentioned, there is uneasiness among the party's hard-core operatives; when He is ignored, there is none. When the tongue-tied orator dropped "under God" from her introduction, you didn't hear a murmur of embarassment from the audience; you heard only hearty applause.
Sound Off!
CatholicCulture.org supporters weigh in.
All comments are moderated. To lighten our editing burden, only current donors are allowed to Sound Off. If you are a current donor, log in to see the comment form; otherwise please support our work, and Sound Off!