When is religion OK in America? When it is no longer religious.
By Dr. Jeff Mirus ( bio - articles - email ) | Jun 24, 2019
The recent US Supreme Court decision permitting a cross to remain on public land in Bladensburg, MD is a peculiar one, to say the least. It demonstrates the kind of convoluted reasoning that must characterize justices who have reservations about public expressions of religion but do not wish to obliterate history. We can, I believe, take this reasoning as the best our secular officials can do to avoid actively erasing all remembrance of God.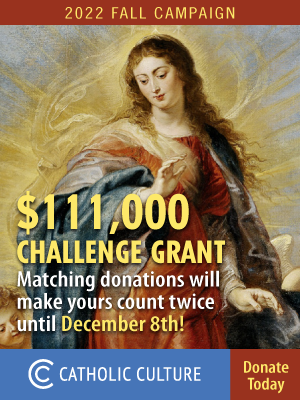 The case deals with a forty foot cross honoring 49 soldiers who died in World War I. In a classic 5-4 majority decision which shows how tenuous is any sense of the value of religion in American life, the majority argued that the cross can remain for these reasons:
It is difficult to identify the original purpose of a monument established long ago.
As time goes by, purposes associated with an established monument often multiply, such as association with an historical period or a cultural heritage.
The message of a monument may evolve, and even familiarity can become a reason for preservation.
Removing such a longstanding monument may no longer appear neutral, especially to the local community.
In conclusion, the justices suggest that "the passage of time thus gives rise to a strong presumption of constitutionality."
There are a number of interesting additional comments by individual justices But in dissent, Justices Ginsburg and Sotomayor argue that the majority has in effect attempted to secularize what is clearly a reaffirmation of Christian belief, and that "attempts to secularize what is unquestionably a sacred [symbol] defy credibility and disserve people of faith."
I would say rather that such attempts defy credibility precisely to offer a minimal service to people of faith.
The real issue in this decision is the lengths to which our politically correct culture, buttressed by Constitutional clauses which were never intended by their drafters to be used as they are today, will go to drive out even the remembrance of God as a quaint feature of the American past. These lengths trigger the mental gymnastics which more sympathetic minds must perform in order to provide even a marginal role for religion in America's public square.
I grant that the question of government recognition of religion is a thorny one, with pitfalls on every side. This is so because, at one and the same time, two Catholic principles apply. On the one hand, governments, like all persons, have a duty to seek and acknowledge the truth, which entails a duty, upon recognition, to acknowledge the spiritual authority of the Catholic Church. On the other hand, the very duty of all persons to seek the truth engenders the natural right to do so, which the State cannot morally restrict except, as with all natural rights, as required by the demands of the common good in accordance with the natural law.
We can see, then, the complexity of these questions when it comes to real governments run by a variety of real human beings in the real and varied states and cultures of the world. But while the common good does demand a distinction between the spiritual and temporal sword—some sort of distinction of authorities and powers between Church and State (which is a principle first offered to the world by the Church)—it is utter folly to believe that there must be any complete separation, that is, a separation between religion and politics.
It is this error which is destroying the credibility of the American public order and the rabid secularism on which it is based. Our government, including our Supreme Court, is now so entirely bereft of rationality that it is necessary, in order to preserve a cross on public land, to pretend the cross has no religious significance. In other words, the United States and the West generally are now between a rock and a hard place when it comes to the universal moral obligation for both persons and governments to seek and embrace the truth.
The United States can now admit to the Good only if it is denatured of all religious association—which tends to make the Good even more rare and fleeting in human affairs than otherwise. Accordingly, those who do not wish to stamp out even the remembrance of religion must resort to the theory that such remembrances may be allowed to endure only if we can reasonably presume they have already been denatured of their religious association by the passage of time.
No wonder the minority scoffed—but not as a service to people of faith.
Sound Off!
CatholicCulture.org supporters weigh in.
All comments are moderated. To lighten our editing burden, only current donors are allowed to Sound Off. If you are a current donor, log in to see the comment form; otherwise please support our work, and Sound Off!