What's in a Name?
By Dr. Jeff Mirus ( bio - articles - email ) | Aug 03, 2012
Do you see a resemblance between the line drawing at left and the photograph below? They look pretty much like the same guy to me, though sixty-four years apart. The little guy's initials are JAM; my initials are JAM. The little guy's first name is Jeffrey; my first name is Jeffrey. The little guy's last name is Mirus; wow, my last name is Mirus. But this is no trip down memory lane, for the little guy's middle name is Arthur, and mine is Alan.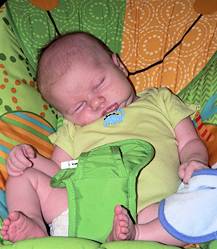 So when I say I've been "on the road", and I apologize for not keeping up with my full spate of writing for CatholicCulture.org, you now know one of the reasons: Jeffrey Arthur Mirus, born to my oldest son, Chris, and his wife, Ellen, in Dallas, Texas on July 5, 2012.
I'm here visiting little Jeffrey now, though I don't think he's noticed yet. As a tall tale for missing work, it may not be as good as having your dog eat your homework. But it'll do. I can assure you it'll do very well, indeed.
Sound Off!
CatholicCulture.org supporters weigh in.
All comments are moderated. To lighten our editing burden, only current donors are allowed to Sound Off. If you are a current donor, log in to see the comment form; otherwise please support our work, and Sound Off!
Posted by: AgnesDay - Aug. 06, 2012 11:58 AM ET USA

This kind of news is worth all the tea in China. God bless the Mirus family. Increase and multiply.

Posted by: gop - Aug. 03, 2012 9:48 PM ET USA

Congratulations! may your tribe increase more!

Posted by: koinonia - Aug. 03, 2012 8:14 PM ET USA

Congratulations to the entire family. A little saint he is, and that is cause for tremendous joy for all God's people. There is no greater work than that of the family in experiencing God's love.