what's eatin' you?
By Diogenes ( articles ) | Feb 11, 2009
The Obama team rolled out its plan to fix the nation's financial markets, and those financial markets went into a downward spiral. The more investors learned about the plan, the lower the market fell. Here's how two leading newspapers (under the same management) covered the story: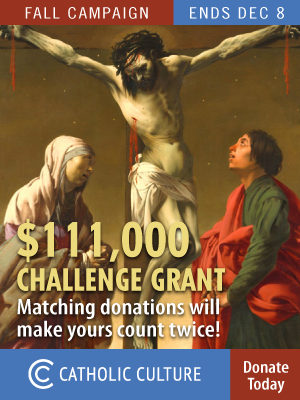 The Boston Globe story began:
The Obama administration yesterday unveiled a plan to provide up to $2 trillion to shore up the faltering US banking system, but the proposal was not specific enough for Wall Street, where stocks fell sharply.
Got that? The problem is that the plan was "not specific enough."
In the print version of the New York Times the message was the same. Under the lead headline, the subhead ran: "Scant Details, and Wall Street Reacts with a 4.6% Plunge." (The subhead is missing from the online version of the story.)
Imagine a Russian peasant in the time of Ivan the Terrible, who learns that in the morning the czar plans to throw his family to the wolves. The unfortunate peasant is disconsolate. Why? Isn't it obvious? The czar's plan came with no specifics, no details! What time in the morning? What kind of wolves? No wonder the poor guy can't sleep!
Sound Off!
CatholicCulture.org supporters weigh in.
All comments are moderated. To lighten our editing burden, only current donors are allowed to Sound Off. If you are a current donor, log in to see the comment form; otherwise please support our work, and Sound Off!