A visit to Hong Kong
By Phil Lawler ( bio - articles - email ) | Oct 12, 2012
If you're a regular visitor to the Catholic Culture site, you may have noticed that I have been unusually quiet, posting only a few comments during the past few weeks. And if you're a truly avid reader, you might even have noticed that when I did post blog comments, they appeared in the wee hours of the morning. The explanation is simple enough: I've been taking some time off, and traveling.
I didn't want to announce my travel plans in advance, because it's not a good idea to let the whole online world know that you're going to be away from home for an extended period. But now the truth can be told. I returned home Wednesday night after a 2-week trip to Hong Kong.
If you know me at all, you probably know that I'm not enthusiastic about travel. So what would prompt me to fly halfway around the world? It must have been something or someone mighty important, right? Right: someone mighty important.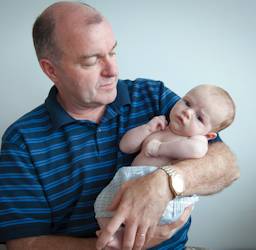 Francis Xavier Lawler was born in Hong Kong on August 11: our 2nd grandchild, and the 1st to bear the Lawler name. For nearly 2 years his parents, Nick and Natasha, have been urging Leila and me to visit them in Hong Kong. The birth of Francis X (and by the way, isn't that a great name for a Catholic boy born on the shoreline of China?) clinched the argument.
What a blessing it is to be able to make the trip from Boston to Hong Kong in just one day! (The international dateline complicates matters, but the flight takes "only" about 15 hours.) A generation ago, the same trip might have taken 6 weeks. A few generations before that, sending an adventurous son off to Hong Kong would have entailed saying goodbye and realizing that you might never see each other again. But now we can communicate instantly by phone and email, text messages and skype. And on special occasions we can hop on a plane and meet face to face.
Needless to say, the highlight of the trip was the opportunity to get acquainted with little Francis: a handsome, happy baby who didn't object to the extra attention from his grandparents. But the visit left me with some other lasting impressions about the blessings we enjoy.
Hong Kong is an incredibly dynamic, bustling city, a key international hub for finance, shipping, and trade. The streets are crowded, noisy, but clean. (The air, on the other hand, is badly polluted; a heavy smog rolls in from the factories of mainland China.) There is construction everywhere. Developers are pulling down 25-story apartment buildings to build 50-story replacements.
Visiting a museum of history, we saw photos of Hong Kong from earlier times. As late as the 1960s there were still frail shacks along the shoreline of the harbor, with only a few tall new buildings hinting at the city's future wealth. Now all those shacks have been replaced by modern apartment buildings; the skyscrapers line both sides of the harbor for as far as the eye can see. Has something been lost in this headlong rush to develop? Absolutely. There is very little charm in the new steel-and-glass edifices. The pace of life is almost frantic; the pressure to produce and to consume is palpable. I was relieved to come back to my quiet rural home, and watch the deer saunter through the orchard that adjoins our yard.
But for the people of Hong Kong, the changes of the last half-century have surely been welcome. Their standard of living has not merely risen; it has soared! Hong Kong then was struggling to escape the clutches of poverty; Hong Kong now is struggling to control the side-effects of sudden affluence. Many residents might regret all the noise and neon, I imagine; but few would want to go back. Meanwhile tens of thousands of ambitious immigrants from the Philippines and Indonesia, are crowding into Hong Kong seeking a better life—just as so many people came to America to seek their fortunes in previous generations.
And what is it that accounts for the transformation of this city? It is the astonishing power of human productivity. Hong Kong is a citadel of economic freedom; it is one of the best places in the world for a young entrepreneur to set up shop. The city encourages new ventures, and so new ventures abound. A visit to Hong Kong is a reminder that when society unleashes the power of economic creativity, nearly anything is possible.
(Photo thanks to Becky Benians, Hong Kong)
Sound Off!
CatholicCulture.org supporters weigh in.
All comments are moderated. To lighten our editing burden, only current donors are allowed to Sound Off. If you are a current donor, log in to see the comment form; otherwise please support our work, and Sound Off!
Posted by: AgnesDay - Oct. 15, 2012 1:54 PM ET USA

Grandkids! You'd walk around the world to do anything for them. Congratulations to the Lawler family.

Posted by: tedi - Oct. 13, 2012 7:32 AM ET USA

Glad to know you have a family tie with Hong Kong! Know that you have a long-time supporter there! Me! :-)