Three Catholic thinkers on 'the rules' of art
By Thomas V. Mirus ( bio - articles - email ) | Nov 05, 2014
1. G. K. Chesterton, The Everlasting Man: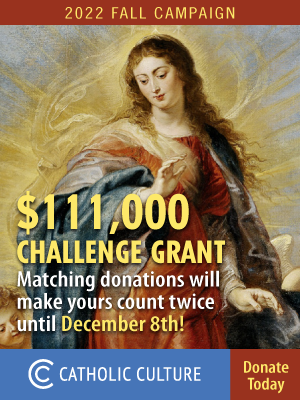 There are no rules of architecture for a castle in the clouds.
2. Étienne Gilson, Forms and Substances in the Arts:
Everything can legitimately be tried, given up, revived, varied, adorned or stripped of its adornments, for in contrast to knowledge which takes cognizance of its object, the function of art is to create its own object in freedom and for beauty's sake.
3. Jacques Maritain, Creative Intuition in Art and Poetry, "Art as a Virtue of the Practical Intellect":
This very notion of rule, in the fine arts, is transfigured, through the impact of beauty on the activity of art.
First, the rules, in fine arts, are subjected to a law of perpetual renewal infinitely more exacting than in useful arts. They must be perpetually newborn rules, not only with respect to a given object—boat, vase, or calculating machine—to be improved, but with respect to beauty to be participated in; and beauty is infinite. Outside any particular style or lineage of masterworks, there is always an infinity of other ways to achieve participation in beauty. No form of art, however perfect, can encompass beauty within its limits. The artist is faced with an immense and desert sea...
...and the mirror he holds up to it is no bigger than his own heart. He is bound to go hunting a new analogate, a new typically different participation in beauty; and this new participation in beauty will involve and require new ways of making—either a new adaptation of the fundamental and perennial rules, or the use of rules not hitherto employed, which are simply new, and which at first disconcert people. It seems relevant, moreover, to lay stress at this point on the spiritual universality of what I just called the fundamental and perennial rules of art—or, better, the eternal laws of art. These eternal laws of art are not to be found at the level of the particular rules of making, say, the famous Golden Number. They exist only at the supremely universal level of philosophy, and of that wisdom (more lived than conceptualized) which is concealed in the roots of the virtue of art. They are in the artist the spiritual, and general, foundations of his intellectual virtue, prior to any particular, technical manifestation of this virtue. And it is through an infinite diversity in application that they are exemplified by the great works of any epoch and any style.
...
At the summit of artistic activity, and for the one who has long traveled along the road of the rules, finally there is no longer any road. For the sons of God are under no law. Just as finally the unique law of the perfect soul, according to the saying of St. Augustine (not literally of him, but it does not matter), is "ama et fac quod vis" —love and do what you want—so the unique rule of the perfect artist is finally: "Cling to your creative intuition, and do what you want."
Sound Off!
CatholicCulture.org supporters weigh in.
All comments are moderated. To lighten our editing burden, only current donors are allowed to Sound Off. If you are a current donor, log in to see the comment form; otherwise please support our work, and Sound Off!