"I spit on your evil!" (or) The joy of rational discussion
By Dr. Jeff Mirus (bio - articles - email) | Jun 04, 2019
The last few days have been amusing, as I've fielded comments on my review of Taylor Marshall's book. For example: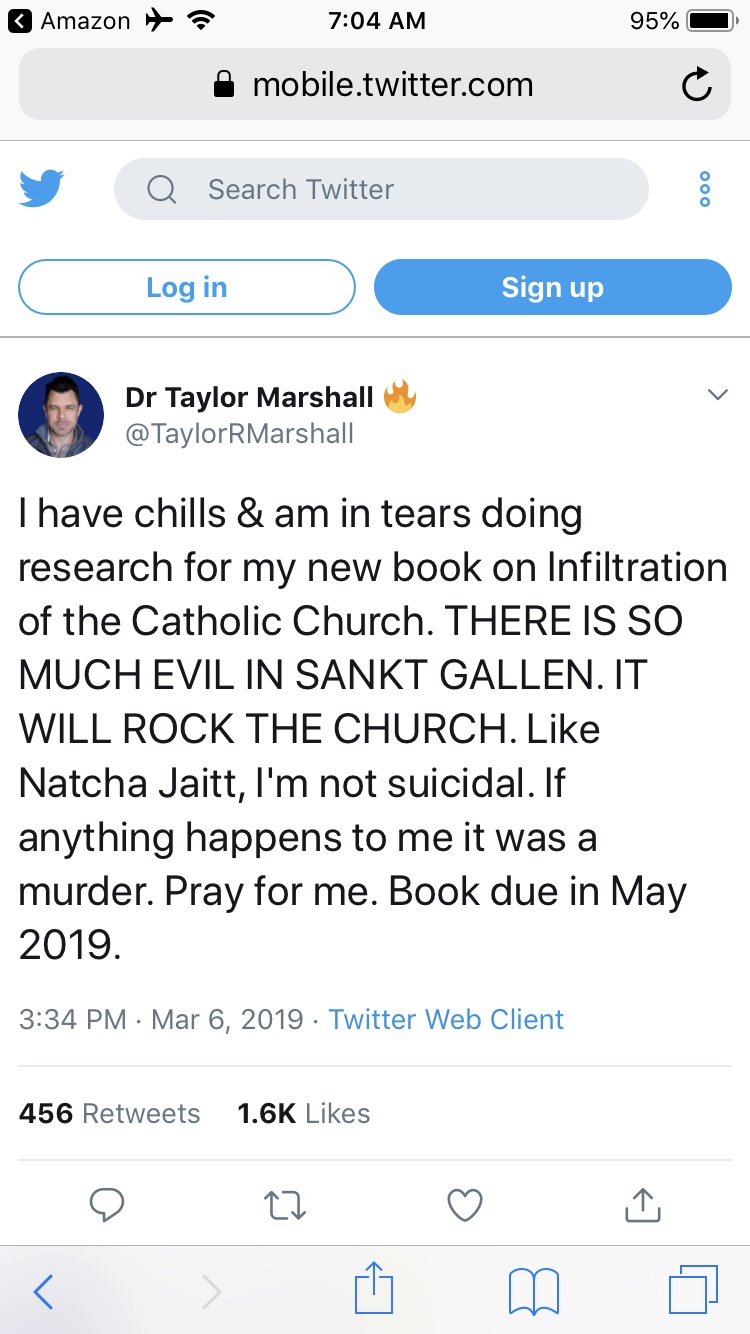 I learned that Taylor Marshall, during the run-up to the publication of his book, claimed to have a mystical experience, a vision, concerning its contents. I can't comment on the validity of the experience, and the vision did not seem to have anything essentially wrong with it, but I wonder why he would want to make a public claim about it.
Then there is the bizarre tweet Marshall made about the same time. (See the image, above or at right depending on your device, which shows a tweet about his possible murder at the hands of the Sankt Gallen conspirators.)
In any case, Marshall (and/or the group behind his book) displays marketing genius. Within hours of the publication of the book, there were over 800 reviews on Amazon, each and every one overwhelmingly positive. You'll remember I mentioned the list of some 2,000 marketing team members in the back of the book. If you are looking for evidence of a conspiracy….
Then there is the feedback I have received, such as this, allegedly from "Critic" in "Heaven":
"You've lost your sanity when you attack Taylor Marshall's book! You're a naïve fool…. I spit on your evil."
And this, from "Reviewer" residing in "Internet":
"Your unjustified hatred is proof of Marshall's claims. You're jealous because Sophia Institute Press publishes books that increase the faith of Catholics…while people of your Novus Ordo ilk publish books to destroy the Church from within! Evil Liberal Catholics like you have destroyed White Europe in favor of Pope Francis' toleration of evil Islam and terrorism. Your opposition of Marshall's bestseller is actually a good example and proof of what he exposed."
Well sure. When the evidential bar is low, anything you want can be alleged as a proof of anything you choose to believe. Thank you, correspondents, for illustrating my case.
On the other hand, the crazies are not limited to Marshall's end of the spectrum, and I do not mean to imply that they are. I also received the following in response to my Insights message on Friday, which I had entitled "Francis speaks unwisely, again":
You are no better than Judas Iscariot & his treachery of Jesus; my only question is who is paying you 30 pieces of silver for Pope Francis' life? Et tu Judas? Secondly, the USCCB & Catholic media is disgusting in its obvious & sycophant far right adoration of the Republican Party…. It is overtly biased animal excrement such as yours that propels me to vote Democrat!!!...Shame on you for using the name of the Trinity for your own politically corrupt purposes. Shame on you, just shame on you!
To paraphrase Kermit the Frog, it's not easy being sane.
Sound Off!
CatholicCulture.org supporters weigh in.
All comments are moderated. To lighten our editing burden, only current donors are allowed to Sound Off. If you are a donor, log in to see the comment form; otherwise please support our work, and Sound Off!
Posted by: Rogvald183981 - Jun. 08, 2019 6:20 PM ET USA

A charge that objectivity is treated as an euphemism.is it not more likely it is a more comforting form of ignorance.

Posted by: MWCooney - Jun. 05, 2019 5:20 PM ET USA

I'll leave it to each reader to decide whether or not your two articles did, in fact, smear those "far right" Catholics and Dr. Marshall by using McCarthyism as "an example of the same thing." And I hope you will re-examine your own use of politically loaded terms such as "far right" and "McCarthyism," and your dismissing of Bishop Schneider's suitability to comment, based on ... what, his not agreeing with your point of view? I'll pray for you, and ask you to also pray for me.

Posted by: Edward I. - Jun. 05, 2019 3:54 PM ET USA

I've been listening to Taylor Marshall for a year but I've been reading you for almost ten. Taylor Marshall, Michael Voris, and all those types are on the upswing. They talk about what people are actually thinking about in plain words without seeming to dance around the topics. I was angered by your review when I first read it but I've cooled my head. Dave Armstrong's criticisms helped me more than yours did. You're older and have been Catholic longer than Dr. Marshall, I'll keep trusting you.

Posted by: Alcuin - Jun. 05, 2019 10:52 AM ET USA

It seems like it's really hard for anyone to stay sane and balanced this year. I imagine you must pray before you write each article and let everything sit for a day or two anyway. Thank you! As Jesus says: 'And can any of you by worrying add a single hour to your span of life? If then you are not able to do so small a thing as that, why do you worry about the rest? ... Instead, strive for his kingdom, and these things will be given to you as well.'

Posted by: koinonia - Jun. 05, 2019 10:40 AM ET USA

"Dearly beloved, be prudent, and watch in prayers. But before all things have a constant mutual charity among yourselves; for charity covereth a multitude of sins." Epistle from Sunday after Ascension EF. It's important to realize the laity did not cause the surreal conditions in the Church. Peace. It is clear that Catholic tradition has not been prioritized among most prelates for decades. Many, including the current pope, consider this a badge of honor. Sadly, what little might be left.

Posted by: Jeff Mirus - Jun. 05, 2019 10:15 AM ET USA

MWCooney: No, that's not quite right. I didn't smear Marshall by comparing his method with McCarthyism. I used McCarthyism as an example of the same thing that I thought would help readers grasp the point—conclusions about conspiracies with no real evidence—and then I proceeded to explain in considerable detail why and how this was the case in Marshall's book.

Posted by: Randal Mandock - Jun. 05, 2019 2:13 AM ET USA

Am I reading that right? I'll clean my eyeglasses. The day the USCCB decides to "adore" the Republican (i.e., Democrat in disguise) Party is the day I'll revise my position on the political persuasion of its membership. The Republican Party at large is every bit as "Establishment/Never Trump/Deep State" as any rank-and-file Democrat. The "issue" that unifies them? One person: Trump, the leader of the forces of cultural revolution in this country. A revolution of life, justice, honor, and truth.

Posted by: james-w-anderson8230 - Jun. 04, 2019 11:57 PM ET USA

No good deed goes unpunished.

Posted by: man961983010 - Jun. 04, 2019 6:02 PM ET USA

I don''t understand why you are so proud of your position, but I have lost confidence in your judgement completely.

Posted by: MWCooney - Jun. 04, 2019 5:55 PM ET USA

I don't know who between you and Marshall is more correct regarding the history in question, but I am a bit disappointed in your subtitle, followed by your own lack of rational commentary. You accuse him and his fellow "far right" Catholics of just what you do yourself: painting those who oppose you with ad hominems, such as "McCarthyism," which, like "Nazi" and "racist," is designed to do nothing but shut down discussion. I had come to expect better of this forum.

Posted by: jackbene3651 - Jun. 04, 2019 3:30 PM ET USA

Hang in there, Dr. Mirus. I appreciate your work.

Posted by: garedawg - Jun. 04, 2019 2:12 PM ET USA

When I read these accounts, I am reminded of the phrase from Dr. Seuss's book "One Fish Two Fish Red Fish Blue Fish": "From near to far, from here to there, funny things are everywhere".