talk about deep pockets!
By Diogenes ( articles ) | Sep 19, 2007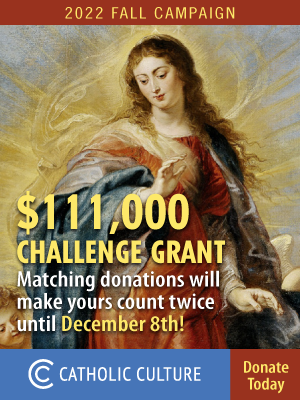 In Nebraska, a state legislator has decided that the best way to drive home a particular political point is to file a lawsuit against God.
The Omaha senator, who skips morning prayers during the legislative session and often criticizes Christians, also says God has caused "fearsome floods ... horrendous hurricanes, terrifying tornadoes."
He's seeking a permanent injunction against the Almighty.
If he really believed in an omnipotent God, the eccentric Sen. Chambers would not bring action in an earthly court. But this post-modern Job is not shaking his fist at the heavens, it turns out; he's trying to illustrate the problem of frivolous lawsuits-- by filing one.
Sound Off!
CatholicCulture.org supporters weigh in.
All comments are moderated. To lighten our editing burden, only current donors are allowed to Sound Off. If you are a current donor, log in to see the comment form; otherwise please support our work, and Sound Off!
Posted by: happycatholicmom8648 - Jan. 11, 2010 4:18 PM ET USA

It's not about good deeds and bad deeds "balancing," as if you had to work to get enough credits to get into heaven. Your bad deeds could outweigh your good almost entirely but if you sincerely repent before you die, "Welcome to Purgatory." And you could be almost as saintly as Bl. Teresa of Calcutta but sin just once mortally and unrepentantly at the end of your life and, well, you know where that gets you.

Posted by: - Jan. 09, 2010 12:18 PM ET USA

There is much truth in nil nisi bonum. None of us have any way of knowing the soul of Fr. Nugent. Perhaps his good deeds balanced his bad - wheat and tares as Our Lord reminded us. And as Harold Macmillan said at the time of the Profumo scandal "Thank God it was with a woman". The bishop does come across as mealy-mouthed. But then so do most of our bishops these sad days. But then I suppose it has been thus throughout the history of the Church. Consider the number of Arian bishops.

Posted by: - Jan. 07, 2010 8:12 AM ET USA

I'm confused. I thought it was "all about the children!". Who let the poor in?

Posted by: Gil125 - Jan. 06, 2010 3:13 PM ET USA

But his Grace is doing nothing more nor less than almost all of the rest of the episcopacy in regard to the wider sex scandal of which Fr. Nugent was only one part. As you (and I, in my small sphere) have observed so often, the sins of the priests aren't as damaging to the Body of Christ as those of the bishops in dealing with them in just this way. And the bishops, save for those in Ireland who have done the right thing in the past couple of weeks, continue having their rings kissed.