Should Health Be Proclaimed a Right?
By Dr. Jeff Mirus ( bio - articles - email ) | Jul 15, 2013
The effort of the Catholic bishops in Ghana to add a "right to health" provision to a new Bill of Rights there is interesting, though perhaps ultimately unworkable. It is clear that the bishops do not regard sickness as a violation of human rights; they are really talking about certain minimal conditions for human health which ought to be established in every community.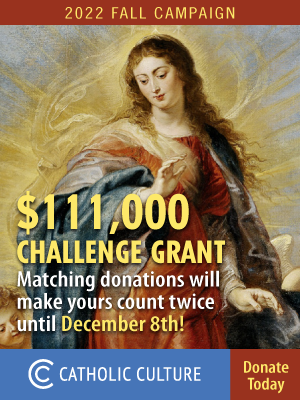 The use of "rights" language, however, is problematic. It suggests that there can be a right to some specific set of positive conditions, rather than a right to be free of governmental restraint under certain circumstances. Given good will, it is always feasible to place restrictions on government, but all the good will in the world cannot ensure that government will effectively accomplish specific objectives.
On the one hand, then, this effort by the bishops seems to be another example of Catholic leaders misusing Catholic social teaching by insisting that all human needs can and should be met by government. Often an unhealthy preoccupation with the power of the State lies at the root of this presumption. To encapsulate extensive positive social responsibilities for government in a political bill of rights would seem to favor an unhealthy social order in which the populace increasingly views itself as a dependent class which it is government's duty to support.
On the other hand, there may be more to this than meets the eye. A right typically exists when there is a corresponding duty. We—all of us—have a general moral obligation to attempt to create the basic conditions necessary to human flourishing in our communities, particularly the conditions necessary to good health and long life. Such conditions, which are of legitimate concern to all persons and every community, are quite obviously integral to the common good, and it is the proper purpose of government to act as needed to secure the common good.
Now it so happens that many of the conditions necessary for good health involve systemic infrastructures which it is usually the business of government to address. We typically call this complex of responsibilities "public" health for a very good reason. Any officials capable of doing so have a serious moral obligation, based on the very nature and purpose of human government, to attend to the infrastructures required for public health. The target, of course, is always what is reasonable within a certain society at a certain time, which varies with the conditions on the ground.
Public health includes such things as a clean water supply, an adequate waste collection and disposal system, restrictions on the release of significant contaminants into the environment, the availability of medical care including both facilities and personnel, adequate building and urban planning codes, and appropriate public instruction on health concerns. Government may foster such things, coordinate them, or even create them directly as needs and opportunities warrant, but there can be no reasonable question that such matters lie well within the scope of government's obligation to secure the common good.
Depending on how one views a bill of rights (such as whether it is a statement of ideals or a set of politically-binding rules), inclusion of a "right to health" could be an effective means of calling attention to the neglect of this vital human concern by selfish regimes which care very little for the real responsibilities of government. This is a major problem in the third world—and, in fact, it is a major problem everywhere public officials are not habitually held accountable in matters relating to the common good. On this reading, it may actually be the purpose of the bishops of Ghana simply to create a presupposition in favor of public health on the part of both government and society as a whole.
Unfortunately, one of the problems of raising consciousness on the question of health is that international organizations, which are dominated by highly secular Western states, tend to be focused on what we would call sexual license, and so they always package abortion, contraception, sterilization, homosexuality and even biological sexual identity under the heading of "reproductive health". This results in intense pressures on governments in the third world, and it also creates a kind of euphemistic terminology for ideological goals. Indeed, things have gotten so bad that it is difficult to introduce the issue of health politically without having the issue hijacked by those who will actually make public health far worse by promoting behaviors which undermine it.
Still, in both propaganda and politics, context is everything. Ghana's bishops may deserve a pass on this but, if so, I hope they are clearly aware of the risks they will have to manage in the future if they succeed. In the countries where most of our readers live, I would oppose any such risk. For most of us, emphasis on a right to health would almost certainly have primarily evil consequences. We in the United States, for example, have seen this under the guise of the Affordable Care Act.
In Ghana, the situation and the context may be different. But if not, the bishops are sowing the wind (Hos 8:7)—and, inescapably, they will reap the whirlwind.
Sound Off!
CatholicCulture.org supporters weigh in.
All comments are moderated. To lighten our editing burden, only current donors are allowed to Sound Off. If you are a current donor, log in to see the comment form; otherwise please support our work, and Sound Off!