secondaries
By Diogenes ( articles ) | Feb 08, 2006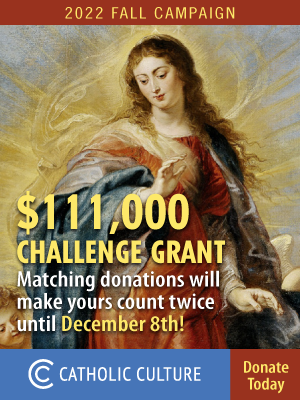 Commonweal has its knickers in a twist over Fr. Richard Neuhaus's "Gays in the Priesthood."
Weigel's "Truce of 1968" is a neoconservative myth, akin to the notion that a lack of American resolve lost Vietnam or that Ronald Reagan's principled belligerence ended the cold war. The idea that married Catholic laity might trust their own moral experience when it came to contraception has no place in Weigel and Neuhaus's tidy scenario. According to the neocon bible, the "disorder" that followed Humanae vitae was caused quite simply by Paul VI's failure of nerve.
Coming from the folks that brought you Brokeback Birth Control, that's quite a compliment.
Sound Off!
CatholicCulture.org supporters weigh in.
All comments are moderated. To lighten our editing burden, only current donors are allowed to Sound Off. If you are a current donor, log in to see the comment form; otherwise please support our work, and Sound Off!