Sacred Heart Image: Coming Soon
By Dr. Jeff Mirus ( bio - articles - email ) | Apr 28, 2005
I've hinted from time to time over the past month that Trinity Communications needs to improve its bottom line and will begin more spirited fund-raising efforts shortly. We have settled on premium-based fund-raising as the best approach. The first premium is the picture of the Sacred Heart of Jesus which accompanies this note.
The picture (below) was first brought to my attention in 1989 by Tim O'Donnell, now President of Christendom College, when Trinity Communications published his wonderful book, Heart of the Redeemer. Tim had found the picture in Spain, as I recall, and suggested that it be used on the cover, which it was. After we were forced by financial difficulties to abandon print publishing, Tim's book was taken over by Ignatius Press, and has since appeared in a new edition without the picture. We don't know who the artist was.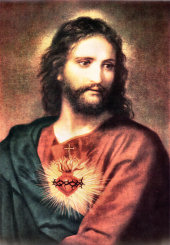 This rendering of the Sacred Heart was popular enough when the book was first published to warrant the printing of copies suitable for framing, which were sold out fifteen years ago. I framed my copy and have had it on my wall ever since. So many people have remarked on the image that we will now employ archival ink technology to bring it back for donors.
The original prints were approximately 7.5" x 10.75" (on 8.5" x 11" stock), a size which works well with appropriate matting in frames with interior dimensions up to around 11" x 14". These can also be trimmed slightly for an 8" x 10" frame. The image works equally well on 13" x 19" stock (image size of about 12.75" x 18.4"), which can take a larger frame. We can also go down in size. On 5" x 7" stock, the image size would be about 4.75" x 6.8". I think it looks best in semi-gloss, but some people may prefer a matte finish. (Glossy finishes are too reflective to hang on the wall.)
I'm not sure yet which size and finish we'll offer, but we plan to send the prints as our way of thanking new supporters for joining our pledge program or existing supporters for giving an additional one-time donation. We'll be happy to send multiple copies, if desired, to those who donate significantly more than the amounts specified in the promotion.
We'll formally announce the beginning of this special fund-raiser next week. For now, I'd love to have feedback on which size and finish seems best. Please let me know what you think!
Sound Off!
CatholicCulture.org supporters weigh in.
All comments are moderated. To lighten our editing burden, only current donors are allowed to Sound Off. If you are a current donor, log in to see the comment form; otherwise please support our work, and Sound Off!