run of the mill
By Diogenes ( articles ) | Jul 02, 2008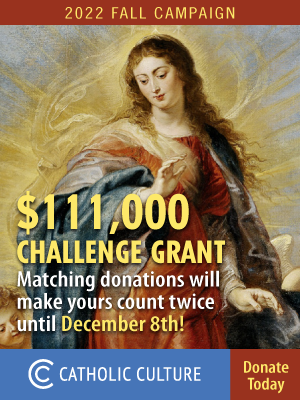 When burglars broke into the residence of Archbishop John Nienstedt and stole irreplaceable ecclesiastical treasures, police first commented on how well the crime had been planned. The burglars seemed to know just where to go, police observed, and how to break through extra-thick window glass without attracting attention.
But after consulting with archdiocesan officials, police spokesmen changed their story. There is no indication that this was the work of professionals, let alone an inside job, police now maintain. "It's more than likely our regular, run-of-the-mill thief."
Sure. You bet. The sort of "run-of-the-mill" thief who consults ecclesiastical calendars, and knows when the archbishop and his staff will be traveling to Rome. The sort of "run-of-the-mill" thief who takes an interest in pectoral crosses and pallium pins-- and, what's more, knows where they are kept.
Sound Off!
CatholicCulture.org supporters weigh in.
All comments are moderated. To lighten our editing burden, only current donors are allowed to Sound Off. If you are a current donor, log in to see the comment form; otherwise please support our work, and Sound Off!