The real lesson of free speech, surely, is that ungrounded pluralism is doomed.
By Dr. Jeff Mirus ( bio - articles - email ) | Jun 09, 2015
It's a complex question, freedom of speech, and it demands prudence on all sides. This was illustrated all too clearly by the imprisonment of Htin Linn Oo, who criticized the behavior of certain Buddhist monks in Myanmar. A well-known writer and member of the opposition to the party in power, Oo denounced nationalist Buddhist monks who had advocated the deportation of Muslim migrants.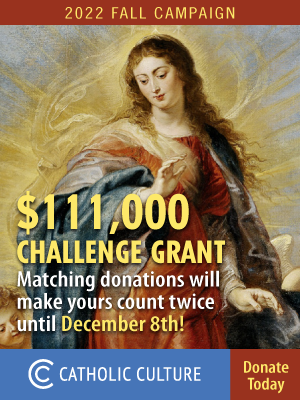 For his pains, Oo was sentenced to two years of hard labor under a law which makes it illegal to "hurt the religious sentiments of others." In a homogeneous culture, these problems mostly take care of themselves, since people share the same values. But the situation becomes far more difficult when a culture is deeply divided along cultural, religious and/or moral lines.
Oo's point seems to have been that the monks in question were abusing their religion to politically marginalize Muslims. In other words, his criticism was that they were doing a bad job of being Buddhist monks. This is like criticizing a bishop who uses his office to promote a partisan political agenda undemanded by clear Catholic principles. The complaint is that he is being a bad bishop. If this kind of complaint is legitimate according to the religious principles in question, then the critic is more to be praised—or at least pitied—than censured.
Sadly, it is all too easy for dominant groups to use their power to punish their critics. We see this more or less constantly when the true and the good are spoken to those who hate the light. Unfortunately, there is absolutely no way to correctly adjudicate questions of free speech based on simple declarations of human rights or even the passage of particular laws. Speech is too varied in its intentions and results to permit accurate classification in advance. Draconian punishments for crossing theoretical lines can do great harm; but so can libertinism of the tongue, the keyboard, and the camera.
As with so much in modern society, the law and politics of speech cannot work without a self-disciplined citizenry devoted to a broadly correct conception of the common good. In the absence of this combination of truth and virtue, laws are inevitably used to protect the prerogatives and even the fantasies of those in power. This is why I have been trying to convince people for years that there is far more to be gained by evangelization and the development of a strong, self-reliant social order from the ground up, than by our increasingly futile efforts to fight the never-ending abuses of political power.
Societies which are fundamentally disordered, fundamentally disoriented, or primarily defined by patchwork are always controlled by the iron fist within the velvet rhetorical glove. There is no other option for non-communities which have no means of controlling themselves. It takes common values rooted in reality to create a social order. Without that, there is only the naked, unrelenting and fundamentally oligarchic power of the State.
Sound Off!
CatholicCulture.org supporters weigh in.
All comments are moderated. To lighten our editing burden, only current donors are allowed to Sound Off. If you are a current donor, log in to see the comment form; otherwise please support our work, and Sound Off!
Posted by: R. Spanier (Catholic Canadian) - Sep. 20, 2016 12:18 AM ET USA

The ACMCU was established with a $20 million gift from HRH Prince Alwaleed Bin Talal of Saudi Arabia. It's Founding Director, John Louis Esposito, is the Bridge Initiative's Project Director. The Bridge Initiative is not "dedicated to inter-religious understanding". Rather, its stated mission "is to highlight the problem of Islamophobia" which it defines as "prejudice towards or discrimination against Muslims..." but isn't "Rational criticism of Islam or Muslims based on factual evidence..."

Posted by: winnie - Sep. 19, 2016 4:11 PM ET USA

Saudi Prince Alwaleed gave Georgetown $20 million dollars in 2005. Saudi Arabia lives by and exports a radical fundamentalist fiorm of Islam. No wonder the Alwaleed Center is critical of your truth-telling. As the old adage goes," He who eats my bread sings my song."