Query to readers: Where is evangelization being done well?
By Phil Lawler ( bio - articles - email ) | Apr 11, 2012
Could you help me with a writing project? I've been asked to help put together a book about evangelization, and I feel sure that Catholic Culture readers could provide me with some valuable leads. I'm looking for 10-20 examples of projects that have been successful in bringing converts into the Church, or encouraging lapsed Catholics to return to active practice of their faith. Do any initiatives come immediately to your mind? If you have suggestions, please send them along, using the "email the editor" button below. A few guidelines: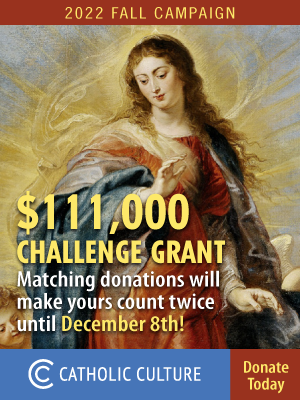 You don't need to provide details about these initiatives. If you can just point me toward someone who could tell me more, that would be an enormous help.
These examples could come from anywhere in the world--in fact I'd have a preference for projects in countries other than the US, and especially from countries where the Church is growing.
I'm not looking for educational or charitable initiatives, but for projects that have demonstrably encouraged more people to use the sacraments.
Ideally these projects would not reflect the work of especially gifted preachers or of established lay movements; they would be initiatives that could be reproduced in other places.
Controversial projects are OK, but I'd like to find examples that anyone safely within the orbit of the Catholic Church would recognize as a success.
If you have any thoughts, I'd be grateful. Naturally, if you can point me toward more information about the projects you suggest, that would be even more helpful.
Sound Off!
CatholicCulture.org supporters weigh in.
All comments are moderated. To lighten our editing burden, only current donors are allowed to Sound Off. If you are a current donor, log in to see the comment form; otherwise please support our work, and Sound Off!