one of the saddest days of his excellency's life
By Diogenes ( articles ) | Feb 21, 2006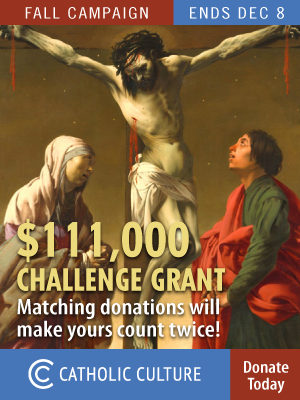 Springfield-Cape Girardeau Bishop John Leibrecht tells the St. Louis Post-Dispatch of his efforts to prevent Fr. Marek Bozek from jumping ship to join the St. Stan's schismatics:
The 75-year-old Leibrecht said he feels a "personal betrayal" in Bozek's decision. On the morning Bozek gave Leibrecht his final decision, Leibrecht asked the priest to sit down and take his coat off. Bozek refused.

"I begged him not to leave. I gave him every reason I could think of," said Leibrecht, "but he made the decision anyway. It was," he paused, then began to cry softly, "it was one of the saddest days of my life."
Creepy. And it gets creepier.
Bozek, it appears, had begun studies for the priesthood in his native Poland but ran into an unenlightened superior with retrograde views about affective maturity:
Two years [after entering the seminary], Bozek was confronted by the seminary's rector at the time, the Rev. Jan Guzowski, and was told to leave the seminary immediately.

In an interview, Guzowski said some of Bozek's classmates had accused him of propositioning them. "When we did an investigation, we found homosexual pornography in his room," said Guzowski. "That was the last straw."
Bozek contends that the charges were unproven. His former archbishop, who (if accurately quoted) richly deserves contempt, slime-lined Bozek out of Poland to Springfield-Cape Girardeau:
In a letter of recommendation to the diocese, [Warmia Bishop Edmund] Piszcz wrote: "I know Marek would like to continue his formation for a priesthood and as his hitherto existing archbishop I give him my own recommendation."

He did not mention why Bozek left Hosianum.

"There is no reason why if someone is accused of something at one place they cannot go on to another," Piszcz said recently.
With an archepiscopal recommendation to hand, Springfield-Cape Girardeau can be excused for its initial blind date with Bozek; yet he seems to have been advanced unusually quickly (the vocation director received Bozek's e-mail of inquiry in Spring 2000, and he was ordained in 2002). Thereafter he enjoyed a brief but eventful career:
Bozek was assigned to be an associate pastor at St. Canera parish in Neosho. He spent about 18 months there before [Leibrecht] reassigned him to St. Agnes Cathedral in Springfield in the summer of 2004. Leibrecht said he'd been told Bozek was preparing to tell his congregation in Neosho from the pulpit that he was homosexual. Bozek denies it.
About this time you'd think Leibrecht would be at Bozek's door with a hypodermic dart gun and an immigration officer. Well, that's not the way it works, folks.
By fall, people in Springfield, including Leibrecht, were hearing rumors that Bozek was considering leaving for St. Stanislaus. But the bishop said when he asked the priest about his plans, Bozek always denied it.
Honesty, maturity, and vocational stability were not among Bozek's strengths. Fine. So what was? What "gift" did he bring to God's Holy People that out-weighed his manifest liabilities?
Bozek finally came to Leibrecht's office in early December and told him he was abandoning his vow of obedience to the bishop in order to heed God's call.
Ah. Discernment. Bozek had a direct line to the Holy Ghost. Perhaps that's why he left Leibrecht blubbering into his sleeve.
As Dom remarks, in spite of the swindle pulled off by Archbishop Piszcz, it's hard to believe the responsible parties couldn't see this coming. Are they bad judges of character, or perceptive judges with a weakness for bad men -- men the unenlightened faithful would call bad? It isn't easy to say. As so often in The Crisis there's an eerie disconnect between ordinary standards of accountability and the strange emotional currents that bind the clergy, that impede the obvious and necessary decisions from being taken. Leibrecht's tears are frankly weird, but it's telling that it was Bozek's "personal betrayal," not the objective leading of souls into schism, that provoked them.
Sound Off!
CatholicCulture.org supporters weigh in.
All comments are moderated. To lighten our editing burden, only current donors are allowed to Sound Off. If you are a current donor, log in to see the comment form; otherwise please support our work, and Sound Off!