Never minimizing sin, Jesus offers true freedom
By Dr. Jeff Mirus ( bio - articles - email ) | Apr 06, 2022
I received the following email yesterday from a pastor I know in another state. He prefers to remain anonymous, but this is heartening proof of the good work being done by so many of our priests in the trenches of the battle between darkness and light: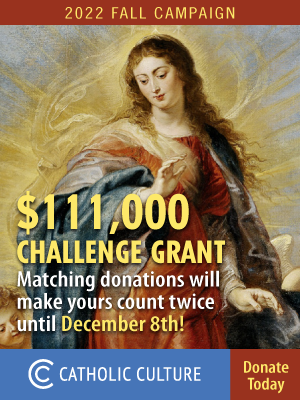 ---
There is a feature of this past weekend's gospel, on the woman caught in adultery, that deserves more attention.
A person who struggles with repeated sexual sin will often come to a priest for help. Some priests will say, "Don't worry about it. No big deal. Don't let your conscience bother you. Move on with your life." But they haven't really helped the person. They have swept it under the rug.
Notice that Jesus doesn't work that way. The remarkable thing about this gospel is not so much that Jesus saves this woman from stoning—any courageous person could have stepped in and done that—but that Jesus does it all the while upholding the commandment. He does not water it down, minimize it or compromise it in any way.
Some priests, bishops and laity view the commandments (and catechism) as policies that can be changed rather than as truths about who we are. Thus they can be negotiated, manipulated. They look for loopholes as an accountant might in dealing with the IRS. Fornication, for example, is largely winked at today. "Everybody is doing it."
But Jesus does not wink at sin. He loves us too much to say, "No big deal." He knows the damage sin does to the person, to marriages, families and the culture.
Jesus wants to free us not just from the punishment of sin, but also from the sin itself. That is true freedom.
Sound Off!
CatholicCulture.org supporters weigh in.
All comments are moderated. To lighten our editing burden, only current donors are allowed to Sound Off. If you are a current donor, log in to see the comment form; otherwise please support our work, and Sound Off!