missed opportunity
By Diogenes ( articles ) | Aug 04, 2006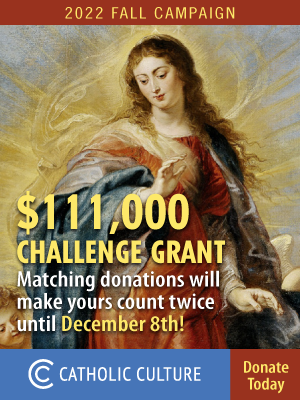 The priest is openly gay. His bishop is "very disappointed."
No, no, no. The bishop isn't disappointed because the priest identified himself as homosexual, or because the priest criticizes Church teaching. That's not the problem. Don't be silly.
The problem is that Father Fred Daley wanted to go to Africa, to work with AIDS victims, and Catholic Relief Services told him that his penchant for controversy made him an inappropriate choice for the job.
Bishop Thomas Costello, a Syracuse (New York) auxiliary, laments that decision. "The average person hearing this is going to say he was rejected because he was gay," he said.
And we can't have that, can we?
Sound Off!
CatholicCulture.org supporters weigh in.
All comments are moderated. To lighten our editing burden, only current donors are allowed to Sound Off. If you are a current donor, log in to see the comment form; otherwise please support our work, and Sound Off!