the limits of Anglican tolerance
By Diogenes ( articles ) | Jul 07, 2008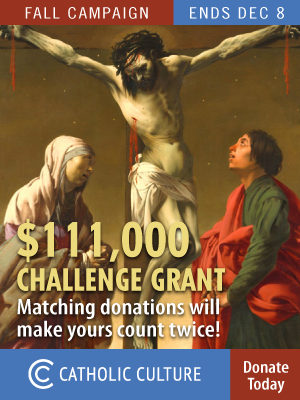 The Archbishop of Canterbury exhibits stunning tolerance, the London Times lets us know:
Preaching to members of the General Synod at York Minster, he said that, were Jesus present in the debate, he would be with every faction of the Church, including traditionalists.
Amazing, isn't it, that "even traditionalists" can be saved?
Or perhaps I should say they "could" be saved since the Times regards the Lord's presence at the Anglican Synod as a merely theoretical possibility. The archbishop has no such doubts:
"He will be with those who feel that their liberty of questioning is under threat, he will be with gay clergy who wonder what their future is in a Church so anxious and tormented about this issue."
He will "be with" them, yes. But will our Lord agree with them? Because that's the question, isn't it?
Sound Off!
CatholicCulture.org supporters weigh in.
All comments are moderated. To lighten our editing burden, only current donors are allowed to Sound Off. If you are a current donor, log in to see the comment form; otherwise please support our work, and Sound Off!