Getting the Green Pope Right
By Dr. Jeff Mirus ( bio - articles - email ) | Apr 23, 2012
As I pointed out in September of 2010, Pope Benedict's frequent emphasis on environmental themes is loaded with Christian insight into what we might call human ecology (see Principles of Catholic Environmentalism). Phil Lawler had already made this point nine months earlier, also explaining why the press so often gets it wrong (see The Pope's 'green' message: not standard environmentalism).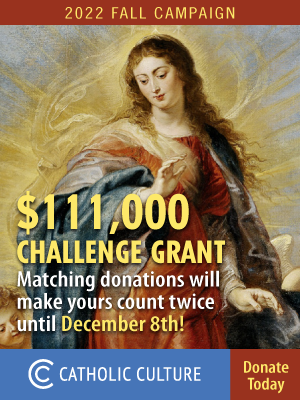 It is, in fact, all about the natural law. If nature in general presents us with an interior dynamism that must be cared for rather than violated, than how much more does human nature do the same?
Now, in a recent column on Catholic Exchange, CatholicCulture.org friend and supporter William Patenaude revisits these themes with admirable precision—and plenty of citations—in honor of Earth Day, which rolled by us yesterday. He also suggests that the Holy Father"s approach provides a paradigm for handling many other contemporary issues.
So lest we be buried by Earth Day fallout, it is wise to pay attention to Pope Benedict's full message. See Bill's fine article: Is the Catholic Church Green?
Sound Off!
CatholicCulture.org supporters weigh in.
All comments are moderated. To lighten our editing burden, only current donors are allowed to Sound Off. If you are a current donor, log in to see the comment form; otherwise please support our work, and Sound Off!
Posted by: dover beachcomber - Jan. 24, 2019 4:40 PM ET USA

Back in the time of Roe, abortion advocates conceded that if the fetus could be proven to be a person, *of course* abortion would have to continue to be illegal. But over the years, as scientific evidence for personhood became nearly overwhelming, they slyly changed their tune: a woman in "ethically challenging circumstances" might *still* have the right to kill her unborn child. Despicable, but effective.

Posted by: Randal Mandock - Jan. 19, 2019 12:55 AM ET USA

First identify the moral object, then bring in science. Is the moral object life or convenience? If life, then whose life? The principle of "double effect" covers the very rare situation of a mother's life being at stake. The life that is threatened in the overwhelming number of cases is that of the unborn child. Science has fully understood for many years the origin of a given human life: a fertilized human egg. Since science knows not when the soul joins the body, we must assume at conception.

Posted by: feedback - Jan. 19, 2019 12:22 AM ET USA

One inevitable complication from abortion is a deep, life-long, emotionally devastating regret by any woman with any moral compass; and that's majority of women.

Posted by: John J Plick - Apr. 24, 2012 9:55 AM ET USA

This apparent effort to affirm every cause that even has the faintest shred of legitamacy is dangerous. Anyone who has the vaguest conception of "spiritual warfare" knows that the Devil "does charity work..." and can imitate God in "providing" human services. I cannot in good faith as a Catholic give even the least support or approval to a "movement" that seems to be energized by the enemy.