Fourth free ebook on Faith in series by Fr. Pokorsky
By Dr. Jeff Mirus ( bio - articles - email ) | Mar 09, 2023 | In Reviews
The fourth volume in the new series of ebooks by Fr. Jerry Pokorsky is now available. Since he began writing on CatholicCulture.org, most of Fr. Pokorsky's essays have dealt with the widespread distortions of the Catholic faith, and how to understand and live that faith correctly. In response to requests, he has organized over 150 of his best posts into a series of four ebooks under the overall title of Resolving Faith Difficulties: A Pastor's Spiritual Journal.
The fourth volume is just out: Book 4: Faith and Controversy. Here Fr. Pokorsky considers how contemporary controversies impact our faith, and how a faith-filled response will ensure our peace of mind and be of great assistance to others.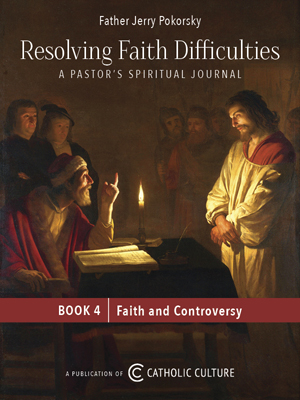 The complete four volume set will be entitled as follows:
 Book 1: Faith First and Always
 Book 2: Faith with Reason
 Book 3: Faith, Nature, and Grace
 Book 4: Faith and Controversy
In the introduction to this series, Fr. Pokorsky explains his purpose:
 "The last decade has seen the acceleration of several errors in Catholic doctrine and pastoral practice on various fronts. Churchmen have called into question the sacred bond of matrimony. Cardinals and bishops are discussing changes to Catholic doctrine that would redefine marriage and include same-sex unions.
 "So-called climate change and open borders have become clerical fixations. Church officials seem increasingly unable to distinguish between their sacred duties as pastors in promoting Catholic principles and the indispensable role of the laity in applying those principles in everyday politics. Maybe these clusters of articles will help reaffirm our faith and desire for heavenly glory."
All of our ebooks are available free of charge in the three most popular ebook formats: MOBI (for Kindle), EPUB (for Nook and other standard ereaders), and PDF (viewable on virtually any computing device).
To download, you must be registered on CatholicCulture.org, and you must be logged in and recognized by the system. If you are not yet registered, click the Subscribe/Login option on the main site menu and fill in the "Subscribe for free" form. If you are already registered but not logged in, click the Subscribe/Login option and use the Click here to sign in link at the top of the page. When you are registered, logged in, and recognized by a cookie, nothing more is needed. You will see a My Account menu item instead of Subscribe/Login.
Once you are recognized, proceed to the ebooks download area and click on the book you want to bring up a page which contains the download links.
Sound Off!
CatholicCulture.org supporters weigh in.
All comments are moderated. To lighten our editing burden, only current donors are allowed to Sound Off. If you are a current donor, log in to see the comment form; otherwise please support our work, and Sound Off!