feel the love
By Diogenes ( articles ) | Oct 15, 2009
Do conservatives have a monopoly on hate? Progressivist Catholics often write as if we did. In part, the accusation of hatred is a labor-saving device (impugning your opponent's motives at the outset saves you the trouble of analyzing and answering his arguments). In part, the accusation of hatred is the voice of outraged etiquette (progressives became so used to controlling the discussion that interruptions from outside the club provoke a gasp). And in part -- when applied to the more over-heated element in the contest -- the accusation is deserved. Hatred happens.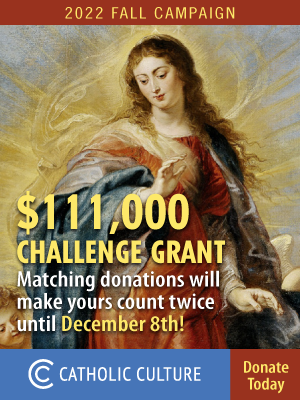 Is the Left fringe slower to take offense than its Rightward counterpart? Is it more soberly focused on the issues? More generous to its opponents? More respectful of the human person? Consider the treatment accorded Ross Douthat, the New York Times' token conservative columnist, in the comboxes to this blog [warning: contains multicultural, gender-sensitive language]. Bear in mind that Douthat himself is no fire-breather out to pick a fight. And feel the love!

Sound Off!
CatholicCulture.org supporters weigh in.
All comments are moderated. To lighten our editing burden, only current donors are allowed to Sound Off. If you are a current donor, log in to see the comment form; otherwise please support our work, and Sound Off!