Did he jump or was he pushed? Wait; has he jumped at all?
By Phil Lawler ( bio - articles - email ) | Feb 23, 2009
Last week in my Commentary essay, "The crucial test for the pontificate of Benedict XVI," I commented on the controversial appointment of an auxiliary bishop of Linz, Austria, and reported: "Father Wagner had asked the Pope to withdraw his nomination. And the Pope had agreed."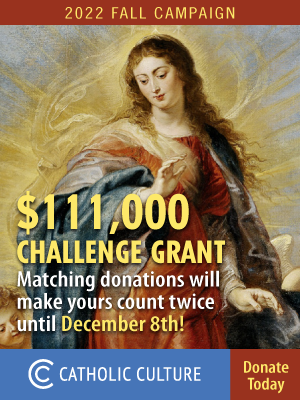 Not so fast. The Vatican press formally announced Father Wagner's appointment on January 31. There has been no formal announcement of his withdrawal. For official purposes, therefore, as far as we know, he remains a bishop-elect.
Moreover, there may be a very good reason for the Vatican's failure to accept Father Wagner's withdrawal. According to the Rorate Caeli blog, which cites an exclusive story on the German-language Kath.net new service, the bishop-elect has not yet sent such a request to Rome!
There is no doubt that many clerics in Austria wanted Father Wagner to withdraw. Nor is there any doubt that many clerics in Austria welcomed his withdrawal. But there's a step missing in that sequence. On the most charitable possible reading of events, the Austrian hierarchy acted with unseemly haste in announcing the bishop-elect's withdrawal.
Sound Off!
CatholicCulture.org supporters weigh in.
All comments are moderated. To lighten our editing burden, only current donors are allowed to Sound Off. If you are a current donor, log in to see the comment form; otherwise please support our work, and Sound Off!