dash-2 too
By Diogenes ( articles ) | Oct 31, 2007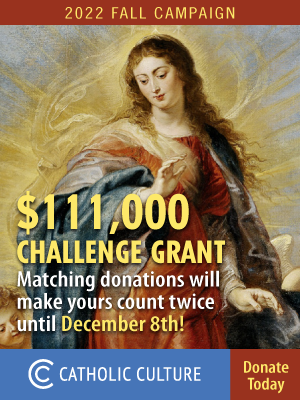 The Bishop of Breda (Netherlands) Martinus "Tiny" Muskens caught our attention earlier this year with a number of consciously provocative remarks, among them the suggestion that popes should have a term limit of ten to fifteen years. OTR modestly suggested that Tiny put his guilders where his dentures are by taking early retirement himself.
Today we read the glad news that the Holy Father has accepted Muskens's resignation three years ahead of his sell-by date under the Canon 401-dash-2 provision. We wish him a happy, healthy, and dolphin-safe senectitude.
Bishop Muskens (foreground, with AIDS-Awareness ribbon) relaxes at a film festival.
Sound Off!
CatholicCulture.org supporters weigh in.
All comments are moderated. To lighten our editing burden, only current donors are allowed to Sound Off. If you are a current donor, log in to see the comment form; otherwise please support our work, and Sound Off!
Posted by: - Dec. 12, 2009 7:47 AM ET USA

Sinead doesn't dislike all popes - just the ones whose name starts with J or B. Oh - and also A,C,D,E,F,G,H,I,J,K,L,M,N,O,Q,R,S,T,U,V,W,X,Y and Z. After all popes whose name start with any of these letters are the real enemy.

Posted by: SentimentalGent - Dec. 12, 2009 7:26 AM ET USA

She's been out of the news so long that I almost forgot how to pronounce her first name. Maybe she just wanted to give our Holy Father a piece of her mind for Christmas, though she should be careful. I don't think she has many pieces left.

Posted by: - Dec. 11, 2009 8:38 PM ET USA

Can I demand that Sinead O'Connor resign?!? Please?!!?

Posted by: sparch - Dec. 11, 2009 3:45 PM ET USA

This is the result when the irrelevent try to become important. Demands made that make little sense.

Posted by: adamah - Dec. 11, 2009 3:34 PM ET USA

Sounds like Ms. O'Connor has a need to feel important. That's the only reason celebs make outlandish statements like this.