"The Crusaders"
By Diogenes ( articles ) | Nov 03, 2003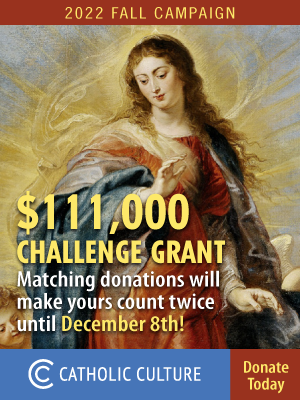 A journalist named Charles Pierce has one of those "You Can't Tell the Players Without a Program" articles in the Boston Globe Magazine in which he tries to familiarize his readers with the high-profile operators among conservative Catholics in the U.S. Like many works of its genre, the story over-focuses on East Coast centers of political power, and carries a faint whiff of Leftist paranoia -- multi-millionaires, private clubs, connections "wired-in" to the Vatican, etc. All pretty predictable. Yet what annoyed me was Pierce's take on the clergy abuse crisis:
These were not arcane doctrinal disputes. They were grotesque secular crimes. As the dust settled, some groups began talking about the "opportunity" that the scandal presented to reform within the church. But when the organizations began to move, they found a shrewd and highly organized conservative front waiting for them, one long established within the church and wired into the centers of power not only in Rome but in Washington, too.
First of all, in speaking of "a shrewd and highly organized conservative front," Pierce is off on a Fantasy Island of his own imagining. Robert Bork's comments from early 1998 (concerning the origins of a comparatively wholesome scandal) are apposite here:
White House apparatchiks and the First Lady say the President is the victim of "a vast right-wing conspiracy." That the Administration is driven to such preposterous allegations is enough in itself to convict Mr. Clinton. It is to be doubted that a dozen members of the so-called "right wing" could manage to line up in alphabetical order.
Too true. But what's especially vexing about Pierce's conspectus is the insinuation that conservatives were fronting for the bishops and the ecclesiastical status quo. In reality aggressively orthodox Catholics were way out ahead of their liberal counterparts in calling for heads -- and in particular mitered heads -- on platters. Charles Molineaux -- in the Wall Street Journal -- called for Cardinal Law's resignation on January 18th, 2002 -- less than two weeks after "the story that started it all" ran in the Boston Globe. He was followed in short order by William F. Buckley, John O'Sullivan, Peggy Noonan, and William Bennett (among many others), while liberal Catholics were still "finding their voice." The same pattern played out among the higher clergy. It was Fabian Bruskewitz who, at Dallas, referred to his brethren as "this hapless bench of bishops," while Rembert Weakland (pre-nosedive) counseled his flock not to engage in penance during Lent because the media provided penance enough in their coverage of the scandal.
Of course, Pierce might admit these facts, but he would certainly deny their relevance. The problem concerns what is meant by "reform." Conservatives, in calling for reform, believe that too many bishops failed to do what the Church wants them to do, failed in those qualities she honors in her bishop-saints like Charles Borromeo and John Fisher. But Pierce understands reform not as recovery of lost virtue but as an entirely new packet of values -- values more in evidence in (for example) the Episcopal Church. No wonder he's upset.
Sound Off!
CatholicCulture.org supporters weigh in.
All comments are moderated. To lighten our editing burden, only current donors are allowed to Sound Off. If you are a current donor, log in to see the comment form; otherwise please support our work, and Sound Off!