the Church has clout!
By Leila Marie Lawler ( articles ) | Feb 10, 2009
The New York Times is so funny.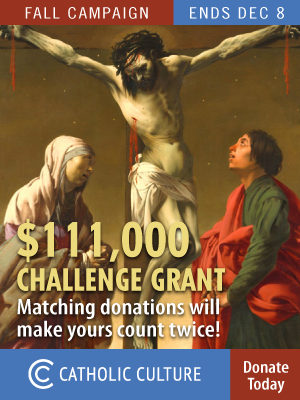 Just the fact that they put this story on indulgences on the front page amuses me, as does their incoherent grappling with the theology involved.
They handle the subject pretty much the way I would if I had to explain the mysteries of the relationship between credit markets and Treasury notes. You'd definitely know that I really don't have a clue.
But the highlight is this paragraph, early on:
In recent months, dioceses around the world have been offering Catholics a spiritual benefit that fell out of favor decades ago — the indulgence, a sort of amnesty from punishment in the afterlife — and reminding them of the church's clout in mitigating the wages of sin.
This is good reporting, giving us an angle we really didn't have before. I just didn't realize how things stood. That God, He knows where He's at when the Church comes in! Watch out, God! We're talking some powerful stuff here, back off! This wages-of-sin business? No way with what I've got behind me now! The Church has clout.
They are just funny, that's all.
Sound Off!
CatholicCulture.org supporters weigh in.
All comments are moderated. To lighten our editing burden, only current donors are allowed to Sound Off. If you are a current donor, log in to see the comment form; otherwise please support our work, and Sound Off!