Children Do Matter, and the Book is Free
By Dr. Jeff Mirus ( bio - articles - email ) | May 23, 2012 | In Reviews
Johann Christoph Arnold is a Christian pastor, teacher, writer, and expert on family life and conflict resolution. He's written more than one book about raising children, and he has also written on sex, marriage, forgiveness and overcoming the fear of death. He also gets around; his book on the last topic is introduced by Madeleine L'Engle.
Now the 72-year-old Arnold is on a mission. Deeply troubled by the state of family life in today's world, he has written a brief but inspiring book entitled Why Children Matter. The book boasts an introductory note by Timothy Cardinal Dolan of New York. It comes recommended by such Catholic luminaries as Fr. Benedict Groeschel and Alice von Hildebrand. And Arnold is trying very hard to give a free copy to every family in America.
I've read the book. It isn't intended to be either a comprehensive social analysis or an extensive training manual. Instead, it is a very readable extended meditation on the importance of treasuring children and forming them well. Rooted in Christian reflection and the wonderful example of his own parents, Why Children Matter briefly touches on the childlike spirit, founding a family, the unborn child, birth, motherhood, fatherhood, creating a home, grandparents, the first years, teaching respect, spoiling your child, discipline, religious education, suffering, adoption, sin, character formation, and the teen years.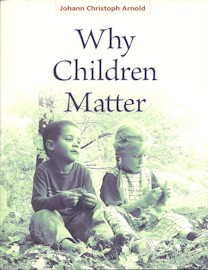 Arnold's purpose is to set forth a basic understanding or framework which will keep families on the right track. The book is to be read as an orientation and an inspiration for those who are new to the full idea of what "family" means, or those who are confused or struggling, or those who simply need some positive reinforcement amid the cacophony of competing claims and contemporary denials of the obvious. There is a spiritual luminosity here that glows from the real trials and concerns of everyday life.
It's an attractive oversize paperback that can make a thoughtful gift, especially for young, good-hearted couples. If you'd like a free copy for your own family, or multiple free copies to distribute to others, visit the publisher's website (Plough) at http://www.plough.com/ebooks/whychildrenmatter.html.
Sound Off!
CatholicCulture.org supporters weigh in.
All comments are moderated. To lighten our editing burden, only current donors are allowed to Sound Off. If you are a current donor, log in to see the comment form; otherwise please support our work, and Sound Off!