A bit of real Renewal...
By Fr. Wilson ( articles ) | Jun 19, 2004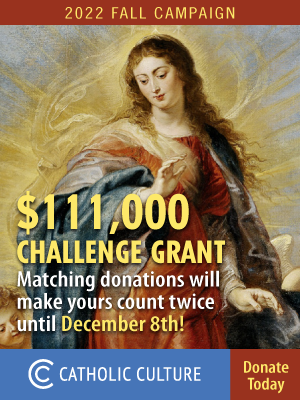 Well, this is interesting, and hopeful. The Catholic Herald (U.K.) is reporting signs that the Holy See is preparing to broaden the conditions under which priests and people can avail themselves of the permission to use the traditional Mass.
Growing up when I did -- the late 1960s/early 1970s, we heard a great deal about how incomparably superior the revised liturgical arrangements were to the utterly inferior ones which obtained before 'Renewal.' I have therefore always been perplexed by the way liturgists fly into paroxysms of horror ar the suggestion that people might be given a choice between the two. Archbishop Weakland once commented that the granting of the Tridentine Indult had completely altered the atmosphere of the Church, which puzzled me.
If one is genuinely convinced that one if offering a superior product, competition isn't something to be feared. Is it?
Sound Off!
CatholicCulture.org supporters weigh in.
All comments are moderated. To lighten our editing burden, only current donors are allowed to Sound Off. If you are a current donor, log in to see the comment form; otherwise please support our work, and Sound Off!