At the Vatican, in February, the only question that matters just MIGHT be discussed
By Phil Lawler ( bio - articles - email ) | Dec 31, 2018
Father Hans Zollner, who heads the child-protection center at Gregorian University, suggests that the much-anticipated February meeting at the Vatican should produce "a clarification of procedures, which aren't so clear." Really? Sixteen years after the "long Lent" in the US, and eight years after the promulgation of new canonical law regarding clerical abuse, and seven years after the Vatican issued guidelines "to assist episcopal conferences in developing guidelines for dealing with cases of sexual abuse of minors perpetrated by clerics," and five years after the establishment of a special papal Commission for the Protection of Minors, we're still working on the "clarification of procedures"? How long will it take?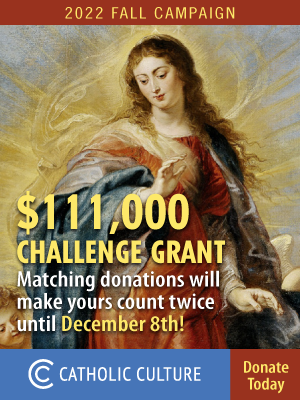 (To be fair, Father Zollner says that the prospects for effective reform also depend on changes in attitudes. But again, how long will that take? How much worse do things have to be, before all Church leaders recognize the gravity of this crisis and the imperative need for reform?)
Pope Francis said that the February meeting should focus on "the prevention of abuse of minors and vulnerable adults." Father Zollner—who is one of the four members of the organizing committee—says that "we want to see how we also can put on the table the question of bishops' responsibility." That is the question that should be discussed—the only question that really matters. If bishops don't assume responsibility, then it doesn't matter how clear the procedures may be. And he's wondering whether there's a way to shoehorn that question onto the agenda.
Forgive me if I'm not optimistic about this meeting.
Sound Off!
CatholicCulture.org supporters weigh in.
All comments are moderated. To lighten our editing burden, only current donors are allowed to Sound Off. If you are a current donor, log in to see the comment form; otherwise please support our work, and Sound Off!