another straw ...
By Diogenes ( articles ) | Sep 27, 2007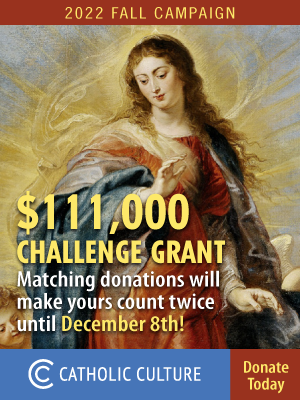 ... and snap goes another camel's back. High-toned gibberish about "exercising restraint" has proven too much for this hard-pressed Episcopalian. He understands full well his welcome will include a lot of pointless spiritual misery ladled into his cup by his new brethren. He knows what the stakes are.
So it's off to Rome for me. I do not labor under the illusion all is milk and honey on the other side of the Tiber. It is not, the Roman Catholic Church, especially in the United States, is beset with woes, lousy liturgy and music being among the less egregious. But the Holy Catholic Church possesses something the Episcopal Church does not: sound doctrine, along with a Pope (especially the present one) and magisterium to ensure that it remains so. Sound doctrine will make it possible for me (I pray) to tolerate Masses where the priest sits in the Captain Kirk chair while the miasmal excrescences of Marty Haugen and David Haas waft into the nave. And while my heartbreak over what happened to the Episcopal Church will remain with me to the end of my days (as I suspect it will for Fr. Kimel), at the same time I look forward with great joy to embracing the full Catholic Faith. I ask your prayers.
RCIA is now the lion athwart his path. Let's hope he gets past it.
Sound Off!
CatholicCulture.org supporters weigh in.
All comments are moderated. To lighten our editing burden, only current donors are allowed to Sound Off. If you are a current donor, log in to see the comment form; otherwise please support our work, and Sound Off!