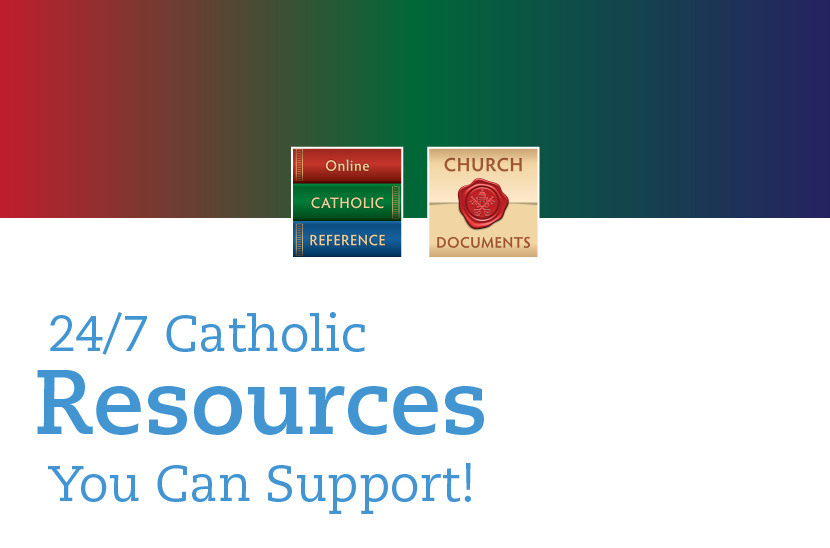 The splendor of the truth, available 24/7!
The Catholic Culture Resources menu is your portal into a vast archive of Catholic information that we make available to our viewers 24/7. These splendid resources can help you answer questions about the Faith, explore favorite topics, and remain current on important Church documents.
Online Resources
Our Catholic reference material is truly a hidden treasure! We curate, catalog, and make accessible the kinds of resources you will want to consult when you need answers. Our biggest resource is our Library.
Library of Catholic Documents
Our Library contains all the encyclicals ever written, important statements from various Congregations and Pontifical Academies, noteworthy letters and speeches from various cardinals and bishops, and outstanding articles from documented sources. Consult our list of the most recent documents, or search by topic for what you need.
Standard Catholic Reference
Access our online Catholic dictionary, searchable Catechism of the Catholic Church, and a public domain collection of the writings of the Fathers of the Church, with added notes about the author and circumstances of each text.
Special Collections
We offer a unique series of What You Need to Know items which adeptly answer scores of questions about Catholicism. We also preserve and make available the collected lectures and writings of the late Biblical scholar, Fr. William G. Most (The Most Collection).
FREE eBooks
We offer a variety of eBooks including the writings of Jeff Mirus organized thematically, selected works of Phil Lawler, and Pope Francis' series of weekly audiences on the family.
Search over 200,000 Documents
Our comprehensive search system is accessible from the top of each page of the website. The "results" page also gives you an option to do an Advanced Search to narrow the parameters and find what you need.
Help people find answers when they need them!
Catholic Culture undertands the thirst for truth and the thirst for souls. We maintain, expand, and offer our online resources in order to "be there when you need them". You can help us make the truth available around the clock and around the world!

We depend on you to keep this Catholic work going strong!
Curating our vast resource content, keeping it continuously available on demand and around the world is no small undertaking. It is a labor of love that, nonetheless, adds overhead to our web operations. And yet we make it all available free of charge, 24-7. We know that the stakes are high: These resources are used by priests, religious, deacons, catechists, Catholic laity and potential converts, in more than 200 countries around the world. Please help keep these resources "there when they need them!"