Catholic World News
Misconduct prompted Father Euteneuer's removal, HLI reveals
February 02, 2011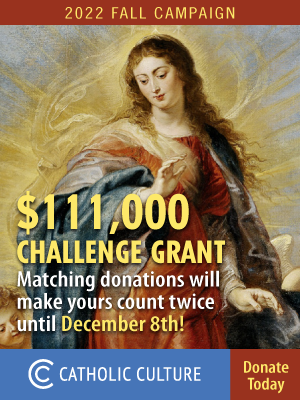 A leading pro-life organization has revealed that its former president, a prominent Catholic priest, was asked to resign because of misconduct with an adult woman.
Human Life International (HLI) revealed on February 2 that Father Thomas Euteneuer, who had been the organization's president since 2000, had stepped down in August 2010 after an investigation into reports of misconduct. The HLI statement came on the heels of another public statement, issued by Father Euteneuer himself, admitting to misconduct.
"The circumstances that led to my departure from HLI were related exclusively to my own decisions and conduct within the ministry of exorcism that I carried out independently from my responsibilities at HLI," Father Euteneuer said. In his personal statement, released January 31, he insisted that his "violations of chastity were limited to one person only, an adult woman." Denouncing internet rumors of further misconduct, Father Euteneuer insisted that he had not been implicated in any other misconduct.
The statement from HLI, released by the organization's board, offered a somewhat different perspective. "Since the time of Rev. Euteneuer's resignation, the Board subsequently learned of additional allegations in connection with his exorcism ministry," HLI revealed. The statement indicated that HLI had forwarded the appropriate information to Father Euteneuer's bishop, and refrained from any further public comment in order to preserve the reputations of all those involved.
Upon leaving HLI, Father Euteneuer returned to the Diocese of Palm Beach, Florida, where he is incardinated. Bishop Gerald Barbarito of Palm Beach has revealed, in a memo to priests of the diocese: "Father Euteneuer has been undergoing intensive evaluation and counseling to address admitted inappropriate crossing of adult heterosexual boundaries on the occasion of carrying out his priestly ministry."
---
For all current news, visit our News home page.
---
Further information:
Sound Off!
CatholicCulture.org supporters weigh in.
All comments are moderated. To lighten our editing burden, only current donors are allowed to Sound Off. If you are a current donor, log in to see the comment form; otherwise please support our work, and Sound Off!
Posted by: Contrary1995 - Feb. 03, 2011 10:36 AM ET USA

After watching this priest on EWTN's Around The World, I sensed that there was something deeply wrong with him. The chief hint was his overt criticism of the Revised Exorcism rite promulgated by the then Cardinal Ratzinger as prefect of the CDF and with the approval of venerable John Paul II. I thought it really strange that an exorcist would display such egotism as to criticize publicly a rite of the Church promulgated by the Holy See.

Posted by: impossible - Feb. 02, 2011 10:45 PM ET USA

Father Euteneur has been and remains an outstanding priest and pro-life hero. He is guilty of a sexual indiscretion. Otherwise his actions, teachings and writings have been in communion with the Magisterium. Now he will be placed in a "period of reflection and renewal. Limbo." What correction takes place with the Bishops too timid to fulfill their duty of teaching and governing? Are some subject to law and others above the law? Temporarily "confused" trumps "forever proud."

Posted by: hartwood01 - Feb. 02, 2011 7:04 PM ET USA

Boy,when you are dealing with Satan,you would have to live in front of the Blessed Sacrament.