Catholic World News
Tucson bishop: Illegal immigrants should learn English, 'get in the back of the line'
July 15, 2010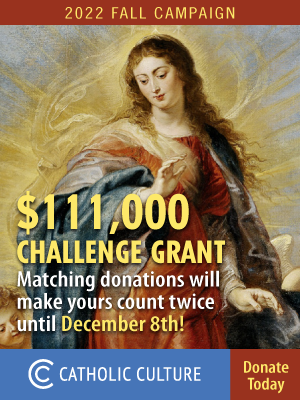 Addressing the issue of immigration reform, Bishop Gerald Kicanas of Tucson told a congressional subcommittee on July 14 that "the US Conference of Catholic Bishops [USCCB] wholeheartedly agrees that the rule of law is paramount, and that those who break the law should be held accountable." In a change of tone from previous bishops' statements, Bishop Kicanas, who serves as USCCB vice president, added, "Comprehensive immigration reform would honor the rule of law and help restore it by requiring 11 million undocumented to pay a fine, pay back taxes, learn English, and get in the back of the line. We believe this a proportionate penalty for the offense."
During his testimony, Bishop Kicanas, in line with previous bishops' statements, called for immigration reform "that provides a legalization program (path to permanent residency) for undocumented workers in our nation; reforms the employment-based immigration system so that low-skilled workers can enter and work in a safe, legal, orderly, and humane manner; and reduces waiting times in the family preference system for families to be reunited," according to a USCCB press release.
"Immigration is ultimately a humanitarian issue, since it impacts the basic rights and dignity of millions of persons and their families," Bishop Kicanas added. "We cannot accept the toil and taxes of immigrants without providing them the protection of law."
---
For all current news, visit our News home page.
---
Further information:
Sound Off!
CatholicCulture.org supporters weigh in.
All comments are moderated. To lighten our editing burden, only current donors are allowed to Sound Off. If you are a current donor, log in to see the comment form; otherwise please support our work, and Sound Off!
Posted by: samuel.doucette1787 - Jul. 16, 2010 10:23 AM ET USA

I slightly disagree with Bishop Kicanas. Secure the borders first (not just the southern border with Mexico but also the northern border with Canada) since we are in a post 9/11 security posture where terrorists can and will try to enter our country from either side. Then deal with the illegals who broke the rules our sovereign nation set up to get here ahead of those legal immigrants who follow our rules. It's not legalistic to insist that those who are guests in our house follow our rules!

Posted by: Ken - Jul. 16, 2010 5:07 AM ET USA

Close the borders. Sweep up and deport all the Mexican gang and drug members. Require the use of E-verify by all US businesses. Fine and close businesses employing illegal immigrants. A significant number of the illegals will self-deport when the jobs dry up. Then we can address working with those left. But NOT until all this is accomplished. The American people do not trust the federal government in this matter.

Posted by: lauriem5377 - Jul. 16, 2010 3:43 AM ET USA

So far I find many of our Bishops far more 'qualified' than many members of Congress to speak to issues facing our country today.

Posted by: baltasa - Jul. 15, 2010 9:01 PM ET USA

Dear Sir: Your emphasis in the legalistic side, considering the undocumented worker as basically a law breaker, and "a change of tone from previous bishops statement" is contrary to the whole lecture of the Bishop Kicanas testimony before Congress. You are making misleading commentaries and taking statements out of the context, in his testimony there is clear that is not change of tone of the Bishops nor he considers the workers as criminals. That is a willing misrepretation. !Shame on you

Posted by: Mike in Toronto - Jul. 15, 2010 6:15 PM ET USA

"My Father's house has many mansions." I missed the part where Jesus added that "some will need to pay fines to get in." (Note - I'm not American; I'm Canadian. We welcome immigrants without excessive "render unto Caesar" law(s). Bp. Kicanas should be ashamed of his very thinly veiled xenophobia and his puzzling reverence to Caesar, a stand is exactly that of the priest and the levite walking on the other side of the road. The Gospel teaches otherwise, and I stand firmly with the Samaritan.

Posted by: - Jul. 15, 2010 6:12 PM ET USA

How is this a change from previous statements? I thought the USCCB had been making this case for at least 2 years? They were especially critical of the Arizona law, but I didn't think they quite rejected the notions they'd professed before.

Posted by: lauriem5377 - Jul. 15, 2010 5:40 PM ET USA

If the Obama administration would secure the borders and then follow this Bishop's recommendation, we might finally have immigration reform everyone could live with.

Posted by: unum - Jul. 15, 2010 5:32 PM ET USA

Our bishops continue to play politician, spelling out political solutions that are the realm of the state. If they want political power, let them resign their clergy positions and run for office. The bishops are not qualified by education or experience to develop political solutions. They are qualified to "teach as Jesus did" and empower the laity to do God's work here on Earth, including correcting political injustice. But, our bishops crave the limelight, and the laity is pushed aside.

Posted by: - Jul. 15, 2010 3:42 PM ET USA

It's about time! I tutored English as a second language. The problem is that they speak English for one hour then go home and speak their native language so they don't readily learn English.

Posted by: Hal - Jul. 15, 2010 1:53 PM ET USA

Wow! When did some common sense break out?