Catholic World News
US Catholic voters lean toward Clinton, survey shows
July 14, 2016
American Catholic voters lean strongly toward Hillary Clinton in this year's presidential contest, according to a new Pew Forum survey.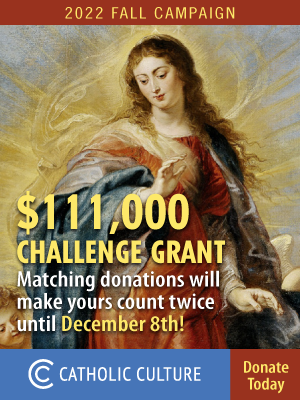 The Pew poll found that Clinton held a 56-39% advantage over Donald Trump among Catholic voters. That 17% margin was markedly different from the results of a similar poll in the last presidential race, when then-Senator Barack Obama was virtually even with Mitt Romney among Catholic voters in June 2012.
However, Clinton's margin among Catholic voters was entirely attributable to a huge (77-16%) advantage among Hispanic Catholics. Among white Catholics, Trump had a slight (50-46) edge.
Among all voters surveyed, Pew found that Clinton had a 51-42% lead. Trump enjoyed his best results among white Evangelical voters, who gave him a massive 78-17% advantage; Clinton did best with black Protestants, who broke even more dramatically (89-8%) in her favor.
Among voters who attend church services weekly, Pew found that Trump had a slight advantage: 49- 45%. But among Catholics who attend Mass weekly, Clinton led by 57-38%.
When asked which questions they considered most important in the presidential campaign, Catholics provided answers that did not differ significantly from the overall national sample.
---
For all current news, visit our News home page.
---
Further information:
Sound Off!
CatholicCulture.org supporters weigh in.
All comments are moderated. To lighten our editing burden, only current donors are allowed to Sound Off. If you are a current donor, log in to see the comment form; otherwise please support our work, and Sound Off!
Posted by: ILM - Jul. 18, 2016 4:45 PM ET USA

The Catholic vote gave us Roe vs. Wade, and has continued to keep it in force for the last 43 years. This will be an issue at each person's final judgment.

Posted by: - Jul. 15, 2016 9:35 AM ET USA

I believe that one who believes in and practices the Catholic faith as handed down to us, cannot in conscience vote for someone who advocates the right to kill one's child.

Posted by: Takeya - Jul. 15, 2016 6:35 AM ET USA

It is a sad commentary on us as Catholics that our choice is between Trump and Clinton. To vote for Clinton, a women that has stated publicly that she believes in protecting a women's "right" to an abortion, right up until the moment of birth, says that we as Catholics are not living our faith.

Posted by: billmccann7994 - Jul. 15, 2016 1:18 AM ET USA

CINOS [Catholic in name only] will vote for Hillary. Any Catholic that votes for a lying, perjurious traitor is not a practicing Catholic. Jesus Christ would never vote for a person who calls abortion [preborn infanticide] "women's health", or who sells out her country by using a private server for her own personal gain.

Posted by: Louise01 - Jul. 14, 2016 11:33 PM ET USA

It's so sad to read that Catholics have so little concern for life when they choose to vote for pro-abortion candidates. Friends insist they are prolife but then vote for the Democrat regardless of what the Dems stand for.

Posted by: LACY - Jul. 14, 2016 11:00 PM ET USA

You are what you read,see and hear. May God have mercy on us.

Posted by: [email protected] - Jul. 14, 2016 8:22 PM ET USA

Stupid is that stupid does. Clinton hates all things Catholic. Look what we got with Obama thanks to many active Catholics. Stupid is that stupid does.

Posted by: JimK01 - Jul. 14, 2016 8:03 PM ET USA

How is it possible that any Catholic or Christian could vote for this awful, abortion supporter? Sure, Trump is far from "perfect" but certainly a better choice when you consider the imminent Supreme Court appointment(s) and Hillary's dismal record on all issues related to LIFE. Just goes to show how liberal Catholics have become since VII and under the leadership of our liberal Bishops, Priests and Colleges.

Posted by: Bernadette - Jul. 14, 2016 6:23 PM ET USA

Not this Catholic! I'm not crazy about Trump, but Trump it is for me. I like the people he is surrounding himself with and he is getting a lot saner, less feisty, more realistic and I like what he wants to do and believe he is going to try to accomplish what he sets out to do. The only thing I haven't been happy about is his statement some time ago about the LGBTs. Hope he doesn't kowtow to them.

Posted by: jeremiahjj - Jul. 14, 2016 6:21 PM ET USA

Catholics I know are not supporters of Hillary Clinton. She is the antithesis of what we believe in. If Hispanics support her, they are not much interested in what's been going on. I have no idea whether this is true, but if it is I would urge my Hispanic brothers and sisters in the faith to take a deeper look into what she stands for. It's quite different from what she says. And don't believe Trump's "fence" has anything to do with you. It has to do with dopers, illegals and law-breakers.