Catholic World News
Pope will visit Iraq, nuncio predicts
January 21, 2015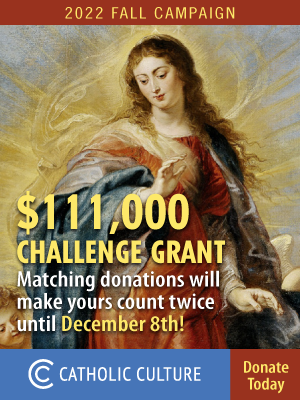 Pope Francis is likely to visit Iraq, according to the apostolic nuncio there, although no plans for a papal visit have been made to date.
"The Holy Father is expected in Iraq, both by the Church and the political power, and even by non-Christians such as the Shi'ite leadership," Archbishop Giorgio Lingua told Aid to the Church in Need. "I am impressed how great the consensus is concerning the figure of the Pope."
Archbishop Lingua acknowledged the security concerns would be a major consideration in planning a papal trip to Iraq. "But everybody says that they would do everything to make the visit a success," he said.
For his own part, the archbishop said that he would prefer to take the time to plan a papal visit carefully. He said that a visit by Pope Francis should allow time for stops in Baghdad, the capital; in Ur, the birthplace of Abraham; and in Erbil, where Christian refugees are now gathered.
Regarding the tens of thousands of Christians who have been forced from their homes by the Islamic State, Archbishop Lingua said that he held out hopes that they could eventually return. The key, he said, would be the handling of the region around Mosul and the Ninevah Plains, where resentment against the national government helped to nurse the growth of the Islamic State. "If the government manages to regain control there and implements a campaign of national reconciliation, then there will be a place for Christians in Iraq," he said.
On the other hand, if the violence persists, "the weakest will pay the price, and these are always the minorities," the archbishop said. He said that of the estimated 120,000 Christians who have left their homes, many have already moved to other countries. Those who remain face severe difficulties, he said; there are already reports of children dying in the cold.
---
For all current news, visit our News home page.
---
Further information:
Sound Off!
CatholicCulture.org supporters weigh in.
All comments are moderated. To lighten our editing burden, only current donors are allowed to Sound Off. If you are a current donor, log in to see the comment form; otherwise please support our work, and Sound Off!